Three adjustments to properly set up the VT17 Series Vertical Tillage Tool
Depth: adjust the depth of the tool with a simple pin and clip system. Choose between 0-76 mm (0-3 in.).

NOTE: Make sure to adjust back to transport mode when moving the unit from field to field.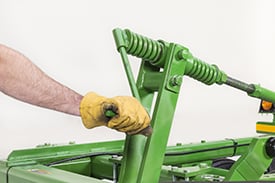 Fore/aft leveling: turn the crank's handle at the front of the machine to level the front and rear of the tillage tool. Turning the crank clockwise will lower the rear and turning counterclockwise will raise the rear. To prevent ridging, Frontier© equipment recommends readjusting the levelness when the unit is at actual working depth.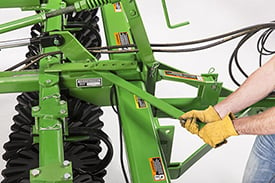 Gang angle: use the included angle adjusting lever to shift the slide plate to the desired setting. The gang angles adjust from 0-12 degrees. A larger angle will cause a more aggressive cut in the soil.