The grass seed vs. sod debate. Should you select grass sod or rolling in grass seed? What's the best way to achieve the most desirable grass appearance?
Is It Better To Sod Or Seed?

Homeowners have been discussing whether it is better to sod or seed lawns with their neighbors for years. Both grass sod and grass seed have advantages and disadvantages, so consider these facts in this post before deciding what to do with your yard.
What is sod, and how does it compare to planting grass seeds? Is planting seed preferable to laying down sod, and what is a seed? Homeowners who want the best lawn maintenance and landscaping options often have these concerns.
How Sod Is Grown?
Growing sod begins with farmers seeding soil using high-quality seed blends or hybridized sprigs. Seed grass needs up to 2+ years to mature to be ready for harvest. Farmers must adhere to a strict watering, mowing, and fertilizing routine to achieve the best products for lawns.
Full sun and low wind speeds are ideal for sod farms. In this manner, the sod can get the sunlight it requires for optimal growth. These factors may influence how well the sod grows.
Benefits Of Sod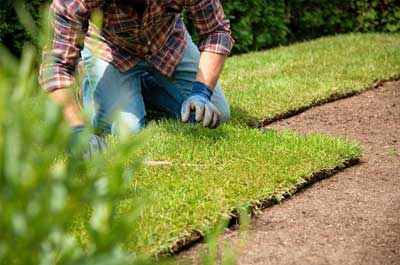 When compared to seed, sod has a lower water requirement. Why? The lack of open land prevents water from evaporating. Some sod may survive in dry conditions, reducing the water needed to keep your landscape looking incredible.
Using sod is an efficient method of avoiding weed invasion. It doesn't take long for weeds to cover your lawn. It becomes more challenging for weeds to spread and take over a sodded yard.
You can prevent erosion by laying sod. With sod, your yard will never become slick, muddy, and annoying to work in. To keep soil from washing away, sod acts as a retaining wall and other support systems in your yard.
A turf lawn will last a long time since sod is tough. Maintained properly, grass turf should survive for decades. A well-maintained lawn with this instant lawn creation can last for 20-30 years, but a seed grass needs to be reseeded every few years.
Sod is soft and luxurious. Playfields, parks, and other outdoor areas can all benefit from sod's inherent shock absorption. Comfortable for both walking on and lounging on, it outshines newly seeded grass.
Having sod installed is a great option for families with kids and pets. Children and cats are less likely to track mud inside the house once the home turf is installed, since it sets up so quickly. Dogs have a more challenging time digging holes in sod, because it compacts into a mat that is difficult to lift.
Laying down sod results in perfect even grass. You can't get the same uniform look from seed as you can when you plant and grow sod. Why? Transplanting grass from a larger lawn to your lawn has many advantages that give you the look you want in your yard.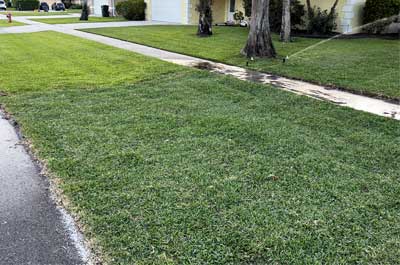 When compared to seed, sod has a lower water requirement. Why? The lack of open land prevents water from evaporating. Some sod may survive in dry conditions, reducing the water needed to keep your landscape looking incredible.
There is a noticeable improvement in air quality after sodding. Lawns maintain well-reduced air pollution. Grass acts as a natural air purifier, preventing the spread of dust and dander. Sod grass performs photosynthesis, which results in the release of oxygen into the atmosphere.
Using sod can reduce noise levels. Since sod can absorb and attenuate sound waves, it can serve as a useful noise buffer. Roots keep the grass in place, even in high-traffic areas. The sod on your lawn can also serve as a noise buffer between your home and the street.
When you put sod down, you instantly increase the value of your home. It's true that sod is more expensive than seed, but you can recoup your investment if you sell your house. The instant lawn gives a homeowner a 20% rise in the value of their property. Potential buyers will see your home in better condition and more cared for if the yard is well-kept.
The upkeep of sod is minimal. Since fewer weeds exist on a sod lawn, less fertilizer and insecticides are needed to maintain it. To start enjoying your new grass rapidly, consider installing sod.
Disadvantages Of Sod
When you put sod down, you instantly increase the value of your home. Sod is a perishable substance that needs planting on your lawn right away. It will dry out and perish if left for too long. The longer you wait to install sod, the more susceptible your grass will be to pests and diseases. For optimal results, install sod within 24-48 hours.
Special equipment is needed to lay sod. Putting in sod is challenging. When laying sod, a rotary cutter is necessary. The equipment makes a neat, even cut-through sod. Avoiding injury to grass blades is another benefit. A sharp knife is also recommended for precise soil cuts.

Sod is labor-intensive. Installing sod grass is challenging, you'll be on your hands and knees for hours cutting, transporting, and rolling out sod. If your yard is huge, it may take two or more people a day to finish.
When it's hot, sod needs daily watering. Sometimes sod needs to be watered numerous times daily to keep it from drying out and withering. Watering can be difficult if you're not home or have usage constraints. After establishing your lawn, less water is needed.
You might not find the sod you seek. Hundreds of sod kinds are available. However, not all are in every area. If you want a specific type of grass or live in a rural region, you may need to place a special order, which could add time and money to the process.
What Is Grass Seed?
Grass seed is the tiny, hard seeds of various grasses that are used to grow new lawns. The most common type of grass seed is Kentucky bluegrass, but there are also many other types of turf-type grasses available. When deciding which type of grass to plant, you must consider the climate, soil conditions, and amount of sunlight your yard receives. You will also need to mow your lawn regularly (at least every week) and water it often in order to keep it healthy and looking good.
Benefits Of Grass Seed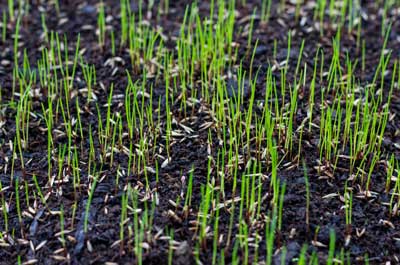 You can plant seeds year-round. Grass seed can be grown continuously depending on the product you purchase since cool season grasses go dormant in winter. The ground is colder than the air. Most cool season grass seeds can grow if the soil isn't frozen.

Depending on the seeds you obtain to grow grass, planting them later in the fall or early winter helps avoid problems with weeds and insects.
Equipment is not required to plant grass seeds. A lawn spreader, a gadget you can buy or rent, is all you need to put down grass seed. You might also need a rake to help smooth out the seed bed.
Some grass seeds will get rid of weeds. Herbicide-treated grass seeds are accessible. It's a wonderful way to rid your yard of weeds without harmful pesticides. Check the grass seed labels for the type of weed killer that is used. Pre-treated grass seed boosts growth.
Disadvantages Of Grass Seed
It's hard to grow grass with seeds equally. Grass seeds can be difficult to sprout evenly, leading to patchy growth and an unattractive lawn.
Weeds can easily invade a grass seed bed. Weeds compete with the grass for water and nutrients, making it harder for the grass to establish itself.
Grass seed is a staple diet for many animals. People who own their own homes may find it annoying, as birds and other animals frequently eat the seeds before it develops into a nice yard.
The weather affects the development of seeds. Grass seed may not germinate if the temperature is too hot or too cold.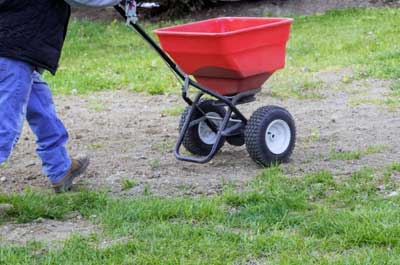 Issues arise when trying to grow seeds. Making the seed sprout requires a lot of effort. The grass may not survive if there is a drought shortly after planting, since grass seed must be kept moist to germinate.
Grass seed may need protective covering. Putting a layer of hay or other protective covering over the grass seed is a customary practice. If you don't choose the correct cover, removing the hay and netting will be a major hassle once the grass has grown.
Grass seed takes time to grow. Grass seed requires considerable time to emerge, establish itself, and fill in a lawn. Being patient is essential.
There is no way to relocate a seed. Grass seeds, unlike mature sod, are not easily transplanted once they have been propagated. Therefore, it will remain in its original location regardless of how much you dislike it.
Appropriate conditions can damage grass seeds. If seeds are sown into dry soil, they will never grow. A lack of warmth in the soil is detrimental to plant development. Grass seed won't establish itself if there's too much competition from other plants or weeds. Poor-quality grass seeds won't survive regardless of conditions.
When To Sod Vs. When To Seed
The answer to when to sod and when to seed depends on your budget, timeline, and personal preferences. If you want a low-maintenance lawn that will be ready to use quickly, sod may be the better option. Seed may be how to go if you're willing to put in a little extra work upfront for a lower overall cost.