Top Uses For Bahia Sod
---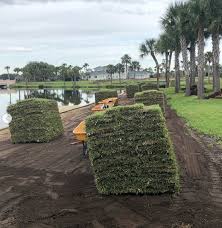 Pastures
Roadsides
Retention Ponds
Highway Medians
While this grass is great in the Florida sun, it does require a moderate amount of mowing and maintenance in order to keep its luster. It is recommended that Bahia grass should be mowed to a height of two to three inches once the root system is established which takes about two to three weeks. It offers a deep root system but does not require much watering or fertilizing once established but should be kept on a regular watering schedule during germination to help establish and strengthen the root system. Although this sod is typically used as foliage, it can be helpful when used as an erosion controlling stabilizer for areas with soil complications. This sod is also not prone to diseases or insect damage.
Argentine Bahia grass is not recommended for projects such as playgrounds, residential lawns, or common areas. This grass is not as comfortable for cushioning for recreational activities. It is also more subjectable to weeds and does not look as luxurious as other types of grasses. With the coarseness of the grass, it could take a toll on the blades of a regular lawn mower rather quickly and cause the need for more regular blade sharpening and mower maintenance. Do not hesitate to reach out to your local Everglades dealership to find the best sod for your needs.
Everglades offers Argentine Bahia to all customers in Orlando and Saint Cloud areas but will be coming soon to West and Southern Florida. These areas have excellent weather in the winter and spring for planting. Everglades partners with local sod farmers and offers the highest quality of product in commercial and residential agriculture and our sod quality is no exception. We offer in store pick up as well as sod delivery to your desired location. You can purchase Argentine Bahia in bulk by the pallet. We do not deliver pallets on non-load bearing surfaces to prevent damage to underground pipes and septic systems.