Everglades red mulch is a rich deep red color that adds vibrancy to any landscape feature while enhancing plant's health. We take great pride in sourcing our mulch from producers that use recycled wood products such as shipping pallets, crates, and tree trimmings. Red mulch is colored using organic dyes that will not leach harmful chemicals into your soil during decomposition. We do not sell freshly cut and dyed mulch because fresh mulch may still contain pathogens from its source. Everglades stores its mulch products in concrete bays that are in direct sunlight in order to keep the mulch dry and hot to prevent the spread of any disease or fungus to your landscape.
When correctly applied, mulch has a plethora of benefits. In artificial landscape features soil texture is often over looked. A layer of mulch protecting your plants creates a barrier against rainfall with can cause soil to be compacted over time. Compacted soil creates a low oxygen environment that can destroy plant root systems. Additionally, the protective layer of mulch prevents soil and fertilizer runoff. By breaking apart the impact of water mulch also creates an ideal environment for beneficial microflora to stay closer to top soil during heavy rain fall. Watering requirements for your landscape feature is decrease due to mulch stopping a substantial amount of evaporation. In Florida our plants are often vulnerable to frost damage. Mulch has an insulating effect protecting soil from direct exposure to cold wind helping soil retain its temperature preventing root frost damage. Mulch also creates a significant gap between sunlight and soil. This prevents weeds that require soil to germinate from reaching sunlight having a weed controlling effect to your garden. Since our producers use natural recycled wood products our mulch naturally decomposes over time providing your landscape feature with nutrients.
Top Uses For Mulch
---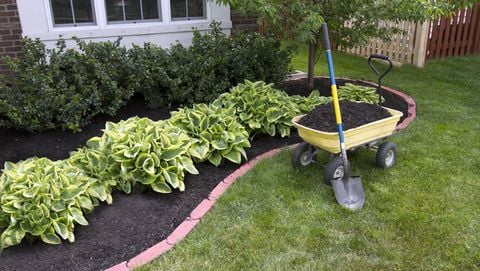 Reduce water usage
Protection from frost damage
Acts as weed control
Helps with soil erosion
Photogenic quality when paired with green plants
Red mulch is the most popular color for our customers. Red is complementary, opposite, to green. This makes red mulch ideal for bringing out the color of green plants such as bushes and shrubbery. Red mulch is often used in real estate and commercial applications due to photogenic nature. In a garden setting, conjures images of a family farms with the color scape as a large green field highlighted by a red barn. Red also harmonizes well with yellow, orange, and purple, pairing red mulch well with flowers like; Shooting Star, Zinnia, Mexican Petunia, and Lantana all of which grow well in Florida.
Proper application of mulch is very important. The recommended thickness is a 3 to 4 inch layer of mulch. This is enough to starve weeds from sunlight and protect soil texture from heavy rain. The thicker the later the better mulch will perform in preventing weeds, however too thick of a layer can create many issues. A thick layer of much will cause soil to retain too much water causing an ideal environment for fungus and other pathogens to spread. Roots do require moisture, but consistent moisture creates a low oxygen environment that can destroy root systems. To further enhance your garden's weed control, fabriscape can be applied under mulch.
We sell our Mulch products direct to your door or in-store pickup. Bagged or by the yard, our mulch is consistently colored, textured, and sized no matter the size of your order. We drop off our product directly onto your driveway to prevent any damage to underground pipes or septic tanks.