Everglades is a family owned and operated business that understands how important your child's safety at play is. We are committed in partnering ourselves with suppliers of playground mulch that are certified safe for playground use. These certifications are earned by a rigorous impact testing process the goal of which is to determine from what height a child may fall without significant injury. They drop large weights from varying heights to test the shock absorbing properties of the mulch. A "critical height" is then determined as a rating is granted to the surfacing material. The critical height should be greater than the "fall height" of the tallest piece of equipment in order to create a safe environment for children. Using grass and dirt as surfacing materials is not recommended due to its shock absorbing properties vary greatly due to weather. Loose surfacing materials must be monitored carefully due to two issues. Compaction over time reduces impact absorbing properties and as children play on the loose surface loose materials are removed and displaced from the play area reducing the depth of material over time.
Our playground mulch is made of sustainably sourced cedar wood that is naturally rot and insect resistant. It has a light brown coloration that does not retain most of the Sun's heat. This keeps your play surface safe for children to run around in bare footed during hot summer days unlike dark colored surfaces like rubber that can inflict serious burns. Mulch also is less damaging to skin if a child were to fall while running because mulch displaces to reduce impact instead of relying on friction protecting your child from scrapes on their elbows and knees.
Top Uses For Mulch
---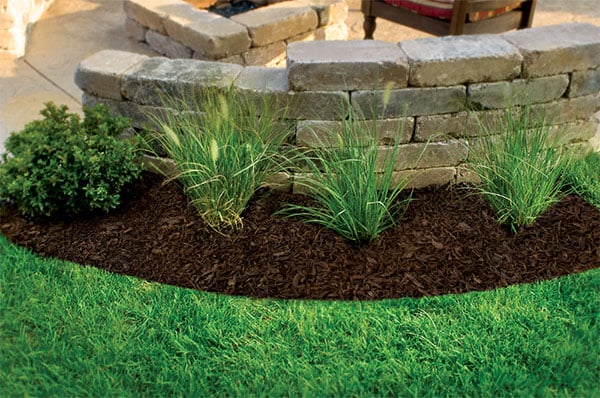 Non-Toxic
Absorbs Impact
Non-heat absorbing
Reduced friction injuries
Playground mulch is designed to have a certain amount of shock absorption. It is recommended that playground mulch is used over a solid surface. The correct thickness of the mulch layer is 9 inches. Upon initial installation it is recommended that mulch is applied at least 12 inches in depth. Over time Playground Mulch is compacted and displaced by use and wear. Under the playground mulch a layer of 3-6 inches of gravel is recommended to help with drainage to avoid flooding in your play area. It is important you refer to the max fall height of your playground equipment and compare it to the critical fall height of the surfacing material you are using to ensure children's safety.
Everglades has playground mulch ready for instore pick up or delivery. We have playground mulch in two cubic foot bags ready to replenish displaced playground mulch, or in bulk ready to be delivered to your preferred location. We will deposit the mulch to your desired location depending on accessibility. Our trucks are unable to drive over grass due to the possibility of damaging underground pipes and septic tanks. Providing a safe and natural product that will protect your children from injury is our privilege.