Mini Pink Bark is a premium mulch product that encourages healthy plant growth while keeping your landscape's organic appeal. Everglades takes great care in selecting our vendors. It is important to us that our mini pine bark comes from ethically harvested pine trees. Once the bark is extracted its sap and moisture content makes the bark in adequate for use as a mulching product because it would decompose too quickly while likely containing pathogens that may damage a landscape. Pine bark is washed, cut to specification, then allowed to dry for two to three weeks until the product is sufficiently dry and free of pathogens.
Mini pine bark is an all-natural mulching product that is attractive and aromatic while enhancing your landscape's conditions for sustainable plant growth. Unlike other mulches, mini pine bark can act as a PH stabilizer. When mini pine bark is broken down during the decomposition process it lowers the PH of your soil which can act as a counter measure against the alkaline nature of city water. Mulch is a protective barrier that prevents soil from being compacted by creating an uneven surface that takes the rain's impact and guides it into channels that develop over time. These channels not only help distribute water deeper into your soil and enhancing drainage. Compacted soil is hazardous to your plants because root systems require oxygen that cannot penetrate the soil. Mulch also blocks direct sunlight from reaching the soil which has two main benefits. Weeds that try to grow from your soil will have to reach through the mini pine bark to attempt to reach sunlight effectively stop their growth. Also blocking sunlight lowers the amount of water that evaporates out of your soil. Mini pine bark protects your plant's roots from intense climate conditions by blocking excess sunlight from raising the temperature of your soil too much, and insolating the soil from cold conditions.
Top Uses For Mulch
---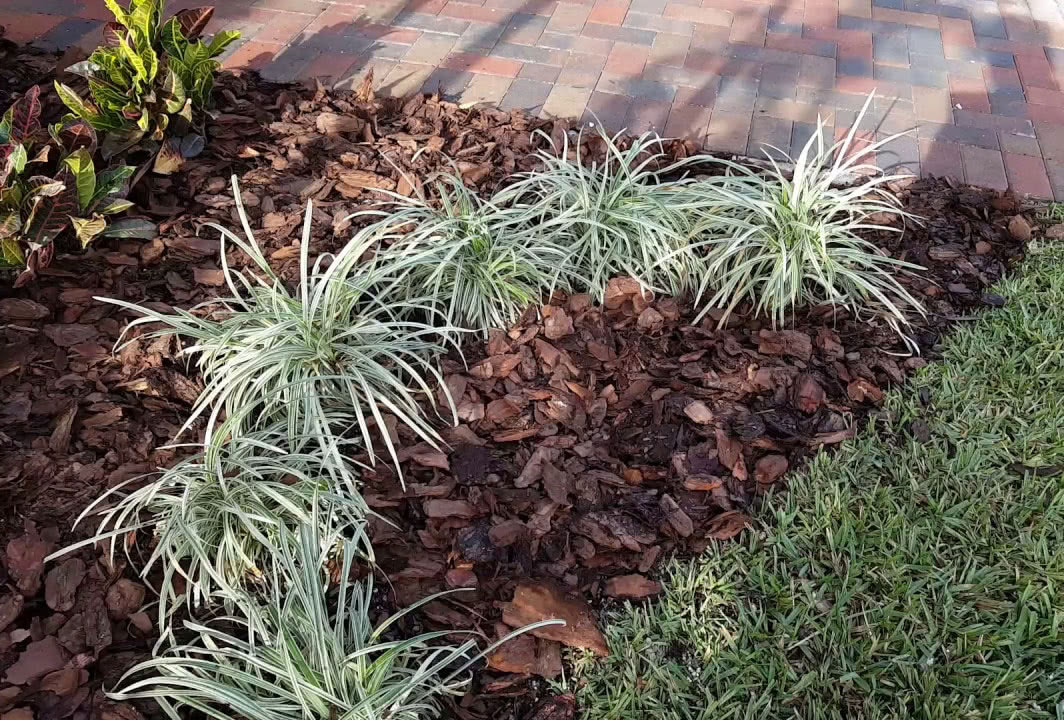 Reduce water usage
Acts as weed control
Helps with soil erosion
Protection from frost damage
Helps highlight vivid flowers
Our mini pine bark is not artificially colored. It has a rich brown color with many shades that add color to your landscape. Its consistent size and unique colorization bring a distinct aesthetic that is not possible with other mulches. Mini pine bark will not look consistent when installed, instead it will have a dynamic arrangement that reflects its organic nature. Mini pine bark pairs well with plants require or enjoy acidic soil like Azaleas, Camellias, Daffodils, and Heathers.
When properly applied to a landscape feature the layer of mini pine bark should be 3 to 4 inches thick. More than 4 inches will cause problems. Soil drainage is necessary to maintain proper oxygen penetration, but too much mulch will stop all evaporation creating an environment were the soil is unable to drain sufficiently suffocating root systems and promoting fungus growth. Fabriscape along with mulch will create an even more effective method of weed control.
We have our product at our locations ready for delivery or instore pick up. Everglades has mini pine bark bagged and in bulk for sale. Our drivers are ready to deliver our products to your location and will drop off the product on your driveway, or preferred location based on accessibility. We make sure not to drop off our product where it may cause damage to your underground pipe and septic tanks.