Everglades is proud to supply our customers with Large Pine Bark, a premium mulching product that helps create an ideal environment for your plants while adding to the natural theme of your landscape design. Our vendors are selected with great care. Everglades partners with suppliers that produce large pine bark from sustainably sourced pine lumber. When the pine bark is removed from the log it is covered in sap and is too wet to be usable as a mulching product. The bark is washed then sliced and then allowed to cure until the moisture content is adequately low. Drying the product also eliminates the presence of pathogens in bark making this safe to use in any landscape.
Adding large pine bark to your landscape is an aesthetically pleasing way to help your plants thrive. As large pine is decomposed it has the unique property of not only depositing nutrients into your soil, but also lowering the PH of your soil. This acidity can balance ph against the alkaline city water. Overtime, will compact unprotected soil which causes oxygen to be unable to penetrate deep enough to provide plant root systems with the oxygen they require. A layer of mulch prevents soil compaction by taking the brunt of the force during heavy rain and guiding the water into the soil. As time passes, small streams appear in the soil that help distribute water while improving your soil's drainage. Mulch blocks sunlight from reaching the soil. This helps with controlling the growth of weeds and reduces the amount of watering your landscape by inhibiting evaporation. Large pine bark also acts as an insulator for your soil against excessive climate change.
Top Uses For Mulch
---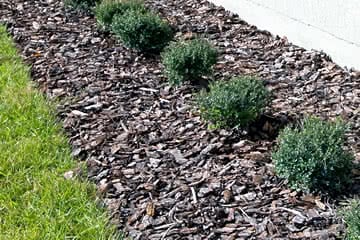 Reduce water usage
Acts as weed control
Helps with soil erosion
Protection from frost damage
Helps highlight vivid flowers
Large pine bark has a rich deep brown color that is not dyed. Its natural color comes with some variance in shade that highlights its texture. This mulch is ideal for landscapes and projects where the designer wants to maintain a natural aesthetic. Applied large pine bark does not have a consistent pattern, bringing a unique dynamic that is not produced by other mulch products. This product is great for flower beds that require a low ph to be maintained.
This mulch is recommended to be applied at a depth of 3 to 4 inches. This will give you the best weed controlling performance while not causing issues. Any more than 4 inches in depth can create problems with the soil being too wet from a lack of evaporation and lack of aeration. This will cause significant damage to plant root systems by suffocating roots and possibly jump start root rot. Adding a fabriscape layer under your large pine bark will create an even more effective control against weeds.
Everglades has Large Pine Bark available in 2 cubic foot bags and in bulk by the yard ready for delivery or instore pickup. We are ready to deliver to you and will drop off the product onto your driveway or a desired location depending on accessibility. We take great care to not cause damage to your underground pipes and septic tanks.