Top Uses For Mulch
---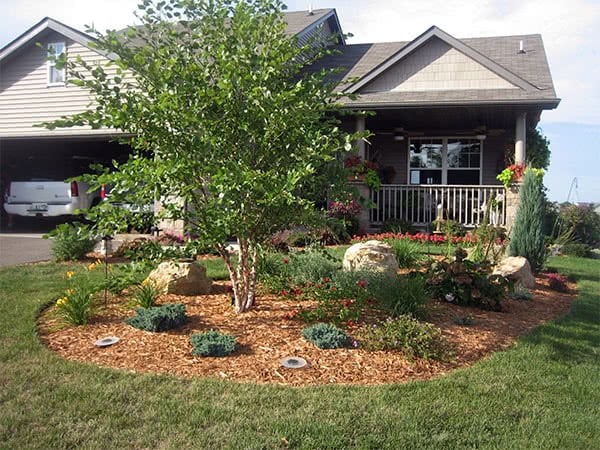 Reduce water usage
Acts as weed control
Helps with soil erosion
Protection from frost damage
Helps highlight vivid flowers
Gold mulch is the best choice for landscapes and home gardens that have color rich plants. The green prevalent in most plants harmonizes well with gold creating a visually tame and subtle landscape. When paired with a flower garden the gold mulch acts as a neutral background that will contrasts with vividly colored flowers. Gold mulch is a blank canvas for a designer to bring attention to features like large rocks or ornate decorations. Flowers like Verbena, Pentas, Coreopsis, and Coneflowers will be elevated by being surrounded by neutral background that gold mulch provides.
Correctly installed mulch is key to reap the benefits. We recommend a 3 to 4 inch thick layer to be applied. This thickness is required for mulch to be a potent weed control. Generally, the thicker the layer of mulch the less weeds will grow, but too much mulch can be very harmful. Mulch is an effective medium to reduce evaporation, however in artificial landscapes soil may be unable to drain sufficiently creating an overly wet environment that will cause root suffocation, root rot, and promote fungus growth. Applying fabriscape and using a proper layer of mulch, your landscape feature will be free of weeds.
Everglades sells bagged and bulk product ready for delivery or instore pickup. We ensure our mulch's texture, color, and size is consistent no matter how large your order is. We will drop off your mulch onto your driveway or your desired location depending on accessibility with great are not to damage any pipes or septic tanks located underground.