Our gold mulch is a neutral color that does not attract attention away from prized landscape features while assisting you in maintaining your plant's health. Everglades takes great care in selecting our suppliers because it is important to us to procure our mulch from producers that use environmentally sustainable recycled wood. We only partner with suppliers that do not use wood products that have been treated with harmful chemicals such as arsenic to ensure your plant's and soil's health. Our gold mulch is dyed using organic dyes that do not leach harmful chemicals to your landscape during decomposition. Everglades also does not sell freshly cut mulch because fresh commonly contains harmful diseases and fungus. Our mulch is stored in direct sunlight to help eliminate unwanted pathogens.
Having a landscape feature properly covered with mulch comes with practical and aesthetic benefits. Mulch prevents rainfall from affecting your soil texture. Soil, when battered by heavy rainfall, compacts causing a low oxygen environment that will suffocate your plant's root systems. Fertilizer runoff is also prevented by mulch because when fertilizer is applied it is held by the uneven surface of mulch and is not carried away when water pools on the surface of soil. The gap created by a properly applied layer of mulch also acts as a weed preventative by starving weeds of sunlight after seeds germinate on the soil below. As mulch decomposes the byproduct of this process enhances soil quality by providing natural and consistent nutrients into your landscape feature reducing the need for supplementary fertilization. The layer of mulch also insulates soil from sudden changes in climate stopped excess heat from direct sunlight or cold winds from harming your plant's root system.
Top Uses For Mulch
---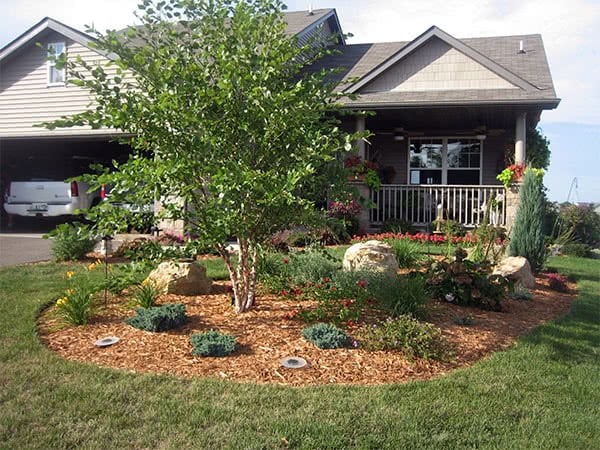 Reduce water usage
Acts as weed control
Helps with soil erosion
Protection from frost damage
Helps highlight vivid flowers
Gold mulch is the best choice for landscapes and home gardens that have color rich plants. The green prevalent in most plants harmonizes well with gold creating a visually tame and subtle landscape. When paired with a flower garden the gold mulch acts as a neutral background that will contrasts with vividly colored flowers. Gold mulch is a blank canvas for a designer to bring attention to features like large rocks or ornate decorations. Flowers like Verbena, Pentas, Coreopsis, and Coneflowers will be elevated by being surrounded by neutral background that gold mulch provides.
Correctly installed mulch is key to reap the benefits. We recommend a 3 to 4 inch thick layer to be applied. This thickness is required for mulch to be a potent weed control. Generally, the thicker the layer of mulch the less weeds will grow, but too much mulch can be very harmful. Mulch is an effective medium to reduce evaporation, however in artificial landscapes soil may be unable to drain sufficiently creating an overly wet environment that will cause root suffocation, root rot, and promote fungus growth. Applying fabriscape and using a proper layer of mulch, your landscape feature will be free of weeds.
Everglades sells bagged and bulk product ready for delivery or instore pickup. We ensure our mulch's texture, color, and size is consistent no matter how large your order is. We will drop off your mulch onto your driveway or your desired location depending on accessibility with great are not to damage any pipes or septic tanks located underground.