Everglades brown mulch is the best choice for landscapes that want to preserve a naturalistic aesthetic while improving the growing conditions for plants. We take pride in our partnerships with suppliers. We are careful to select suppliers who use ethically sourced wood from recycled products and trimmings. Soil quality is vital to a landscapes' longevity therefore we make sure our suppliers' wood material has not been treated with chemicals like arsenic that can damage plants. The consistent brown color of our product is created by dying the mulch with organic compounds that will not leach any harmful substances into your landscape. Freshly cut mulch is a common vehicle for pathogens and fungus. To avoid contaminating your landscape we do not sell freshly cut mulch and we store it in concrete bins in direct sunlight.
Utilizing mulch in your landscape not only looks visually appealing but also enhances the environment for your plants. Maintaining proper soil aeration is a challenge in artificial landscape features especially those that are built drain resistant foundation. As rain crashes onto unprotected soil and saturates it with water, soil begins to compact. Compacted soil prevents oxygen from reaching the roots of your plants essentially suffocating your plants. Mulch acts as a protective barrier against heavy rainfall protecting the texture of your soil. The uneven surface of mulch also acts a preventative against fertilizer runoff and soil erosion during heavy rains and winds. When our organic mulch is broken down by microflora nutrients useful for plants is deposited into the soil enriching plants. Mulch also stops unsightly weeds from growing by stopping seeds that have germinated in soil from reaching sunlight. Blocking sunlight also helps soil retain moisture by reducing water loss via evaporation. Mulch is also an insulator and wind breaker against climate extremes preventing damage to sensitive root systems.
Top Uses For Mulch
---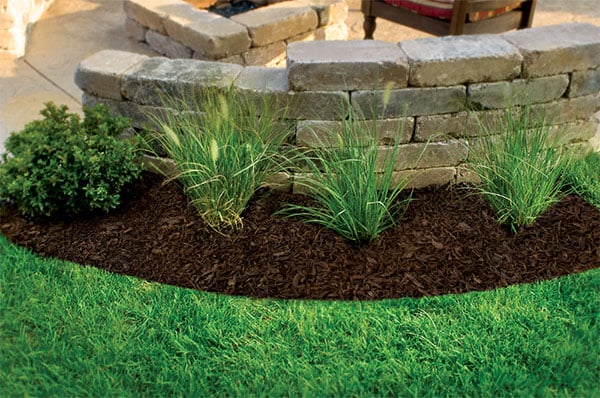 Reduce water usage
Acts as weed control
Helps with soil erosion
Protection from frost damage
Helps highlight vivid flowers
Naturalistic and rustic themed landscapes should use brown mulch. Brown is a neutral color that will not draw a viewer's attention away from colorful plants and ornaments. Neutral colors are the best choice for landscapes that are meant to look neat and subtle. Brown mulch can be used in order to create a canvas upon which other colors of mulch can be used to create more intricate designs. Hard wood crates, large decorative rocks and landscape ornaments will be drawn into the center of an admirer's attention.
When properly applied, a layer of much should be 3 to 4 inches in depth. At this depth mulch is an effective method of weed control and water retention without creating issues. Too much mulch will cause issues. Although plants do want some moisture in soil, consistently saturated soil is ideal to promote the growth of fungus, pathogens, and root rot. Adding a layer of fabriscape first and then spreading mulch on top of it can be a powerful combination for weed prevention.
We sell our brown mulch either bagged or in bulk ready for instore pickup or delivery right to your location. Our mulch is consistent in size, color and texture no matter the size of your project. The driver will deposit the material onto your drive way or your preferred location depending on accessibility. We are careful not to damage underground pipes or septic tanks.