Top Uses For Mulch
---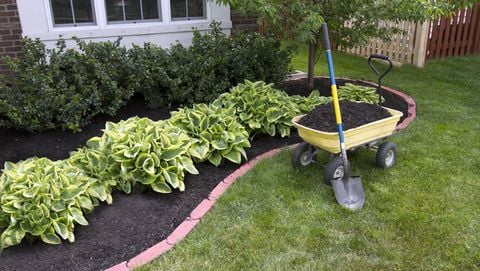 Reduce water usage
Acts as weed control
Helps with soil erosion
Protection from frost damage
Creates refined and elegance aesthetic
Black mulch is best used with homes and commercial properties that desire a minimalist and refined landscape. Black is the strongest neutral color often associated with elegance and formality. This mulch creates an intense sharpness effect that enables it to be used to defined borders and edges. The unnatural color gives a feature the look of neatness and purposefulness which can be further enhanced by the use of inorganic features and water fountains. Black mulch also absorbs a significant amount of light helping cameras make the plants it surrounds appear more defined and vibrant.
A 3 to 4 inch thick layer of mulch is recommended. Any thinner that 3 inches and its weed controlling properties will be significantly affected. A layer deeper than 4 inches may create several problems. Mulch helps retain water in your landscape feature, however consistently wet soil is the ideal habitat for harmful pathogens and fungus that will discolor and damage your plants. Additionally, wet soil is creating a low oxygen environment that is deadly to most plants. Root rot and a damaged root system is very difficult to recover from and may eventually cause plant death. Adding a fabriscape to your garden will allow you to better control weed growth without requiring a thick layer of mulch that can cause issues.
We sell bagged and bulk products ready for convenient delivery onto your drive way or desired location with care not to damage any underground pipes or septic tanks. Our products are also available for instore pickup at a local Everglades location. We ensure our mulch's texture, color, and size is consistent no matter how large your order is.