Overview
The 6E Series PowrReverser transmissions deliver unmatched performance. This transmission is ideal for working in tight areas where forward to reverse shifting is a primary occurrence such as in barns, feedlots, and loader applications.
Producers who operate power take-off (PTO) implements like a rotary cutter or baler will appreciate the additional working speeds with the 24F/12R PowrReverser transmission. High and low buttons are used to make fine adjustments in speed without needing to use the clutch, delivering improved productivity.
The PowrReverser transmission provides 12 forward and 12 reverse speeds. Six well-spaced ground speeds place the operator in the important haying or rotary cutter range of 8 km/h to 20.9 km/h (5 mph to 13 mph). With this transmission, the operator can reach a top speed of 31.5 km/h (19.6 mph). The optional 24F/12R PowrReverser transmission delivers 11 well-spaced ground speeds to match the correct speed for a haying or rotary cutter application with a top speed of 40 km/h (25 mph).
A dash-mounted PowrReverser modulation kit (LVB25727) is available to set the aggressiveness of the forward and reverse shuttle modulation that best fits the application or the operator's comfort level.
Operator controls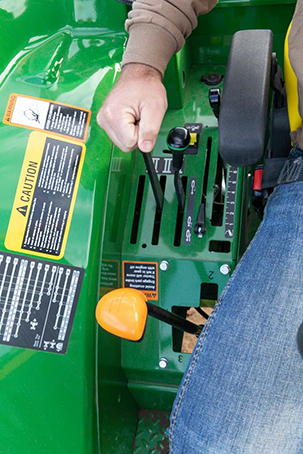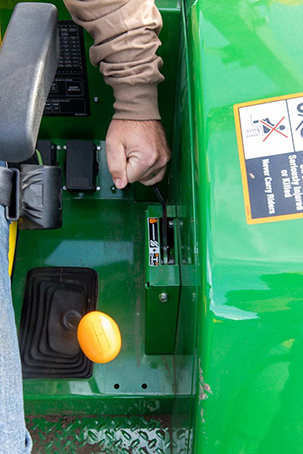 Two levers, one for speed and one for range, with the addition of an electrohydraulic left-hand reverser, provide operators optimum control and maneuverability.
Range lever (right-hand side [cab], left-hand side [OOS]) selects four ranges (A, B, C, D).
Gear selection (right-hand side) selects speeds (1, 2, or 3) in the forward or reverse
Electrohydraulic left-hand reverser allows for quick and convenient shuttle shifting between forward and reverse at any
High and low buttons are located on the gear shifter for the 24F/12R PowrReverser
12F/12R creeper transmission speed control (left-hand side)
Benefits
Forward and reverse speeds
All speed gears (1, 2, 3) are fully synchronized for shifting-on-the-go capabilities, putting less wear on the operator and saving time in the field. In the 12F/12R PowrReverser transmission, gears are synchronized for low shifting effort while the operator is doing field or loader work and during transport.
The PowrReverser transmission lineup also consists of a 12F/12R transmission with creeper. The creeper transmission functionality provides an ultra-low speed to match ground speed during tasks such as harvesting high-value crops, particularly vegetables, that are hand harvested.
The high and low speeds on the 24F/12R PowrReverser transmission can be shifted without clutching while the tractor is under load. This makes for quick speed changes when operating a rotary cutter or baler.
To further enhance awareness of reverse tractor motion, a backup alarm can be field installed (BSJ10026).
The ranges (A, B) are not synchronized. This means the tractor must be stopped for the operator to select the range. However, with operator input, the speeds have been well spaced out to minimize the need to change ranges within applications. The ranges (B to C, C to D, and D to C) are synchronized. That allows the operator to shift ranges on the go in transport and high-speed applications like operating a mower-conditioner.
Wet clutch
John Deere has led the industry in the innovation of wet clutches. In this wet-clutch design, five 17-cm (6.7-in.) diameter clutch disks provide optimum clutch modulation for smooth operation; the disks are oil-cooled for a lifetime of service.
The biggest advantage of a wet clutch is its ease of use as the required force to depress the pedal is minimal. Also, with a wet clutch, the need for frequent adjustment and clutch mechanism changeover is eliminated.