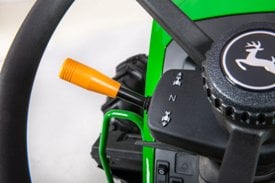 The John Deere-built PowrReverser transmission provides 12 forward and 12 reverse gears for operators requiring additional flexibility for multiple applications. It comes standard with shiftable 540/540 Economy power take-off (PTO) and electronically activated, telescoping draft links. This transmission is ideal for operators using their tractors to perform in versatile applications.
Hydraulic wet forward and reverse clutches maximize durability and will outlast the life of any dry clutch. When tractors are run by multiple operators with a variety of experience levels, a wet clutch is the best way to maintain transmission integrity and performance while decreasing clutch replacement costs.
The gear lever selects one of four speeds, all synchronized shifts for on-the-go shifting with the use of the clutch. The range lever selects collar-shift A, B, and C ranges, which are not synchronized.
Maximum productivity is achieved with hydraulic PowerShift between forward and reverse and is ideal for loader and rear-blade applications that require frequent directional switches in tight spaces. Excellent modulation allows the operator to shift the direction lever from neutral to forward or reverse, forward to reverse, reverse to forward, or to neutral from forward or reverse.
Operators can accomplish all these directional changes without sacrificing comfort or having to depress the clutch pedal. The speed of directional changes can be adjusted to the operator's preference or application demands with the field-installed infinitely-variable control kit.
The PowrReverser transmission also allows the operator to steer and shift direction with the left hand, freeing the right hand to operate other tractor controls, such as the loader, rear implements, or hand throttle.
Constant-mesh, helical-cut gears provide quieter operation and excellent reliability while the pressure-lubricated top shaft adds to the transmission durability. Fully enclosed, rigid shift linkages for short throw and crisp shifts enable all operators to clearly know in what range and gear they are operating.
Positive park pawl on the transmission provides positive park and eliminates the need for a hand brake.
This also eliminates clutch service costs that occur when the park brake is accidentally left engaged. A neutral start switch requires the directional lever to be in the neutral position to start the engine.
Configurations available
5055E-5075E: two-wheel drive (2WD)/four-wheel drive (4WD) in both open operator station (OOS) and cab models

9F/3R and 12F/12R transmission offerings
Loader compatibility: 512 or 520M Loader
NOTE: Loader prep package from the factory will be for the 520M Loader only.
Speed chart
| | | |
| --- | --- | --- |
| Gear | Total ratio | Speed |
| A1 | 337.841 | 1.62 km/h (1 mph) |
| A2 | 249.499 | 2.19 km/h (1.36 mph) |
| A3 | 184.589 | 2.96 km/h (1.84 mph) |
| A4 | 139.094 | 3.93 km/h (2.44 mph) |
| B1 | 117.21 | 4.66 km/h (2.89 mph) |
| B2 | 86.561 | 6.31 km/h (3.92 mph) |
| B3 | 64.041 | 8.53 km/h (5.3 mph) |
| B4 | 48.257 | 11.32 km/h (7.04 mph) |
| C1 | 40.541 | 13.47 km/h (8.37 mph) |
| C2 | 29.94 | 18.25 km/h (11.34 mph) |
| C3 | 22.151 | 24.66 km/h (15.32 mph) |
| C4 | 16.691 | 32.73 km/h (20.34 mph) |
NOTE: 16.9x30 tire, 0.69-m (2.26-ft) tire radius, 2100 engine rpm.