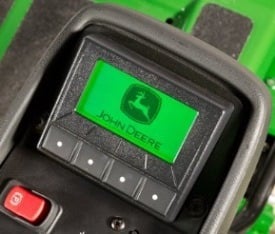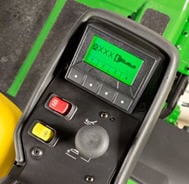 More control with the TechControl display with a large easy-to-read screen
Passcode-protected TechControl display enables quickly setting or changing mowing speed, turning speed, or transport speed to limit variations in performance by different operators.

Quickly adjust the mow or transport speed to make sure mow speed is what is needed for the changing conditions. The setting can be adjusted precisely using a speedometer app on a smartphone or global positioning system (GPS) device.

Use the TechControl to slow the machine during turns while mowing and protect against turf scuffing and aggressive turning operators.
The turn speed control engages when in mow and the cutting units are lifted for turns. Once the turn is made and the cutting units are lowered, the machine speed returns to the set mow speed.
The turn speed is a percentage of mow speed. When set to 100 percent, turn speed control is off or allows 100 percent of the mow speed in turns. Turn speed setting of 50 percent allows only 50 percent of the set mow speed to be reached during turns.
Here is an example:
Mow speed = 9.66 km/h (6 mph)
Turn speed set at 50 percent
Maximum turning speed will be 4.83 km/h (3 mph)


The A-model PrecisionCut© Mowers, E-Cut© Hybrid Mowers, and TerrainCut© Mowers have the latest in advanced diagnostics through the TechControl display. Most all diagnostics are performed while sitting in the operator's seat.
The TechControl has onboard visual diagnostics allowing quick and easy machine diagnostics, maximizing up time. The system allows technician to see inputs and outputs of the electrical system. Also, the technician can see stored controller codes on the machine to aide in troubleshooting incidents that may have occurred while on the course.
The TechControl will also display the notification for maintenance of the hydraulic and engine oils using service timers to notify when it has reached the time to perform the required service.


Choose from a list of several languages to use for the TechControl.
Operator warning notifications are incorporated into the TechControl and will alert the operator if a problem arises during operation.
Description
Hydraulic over temp
Hydraulic oil filter restriction
Engine oil pressure low
Engine coolant temperature
Reel motor
Battery voltage