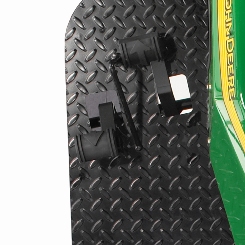 The foot control design of the 1200A increases productivity with ease of operation. To change from forward to reverse, a convenient pedal system is located on the left side of the foot platform, allowing for quick and easy engagement with the touch of a toe.
To select the forward gear, simply press the front pedal forward. To switch to reverse, press the rear foot pedal rearward. Neutral position is required for starting, and can easily be located by utilizing the bar welded to the foot platform.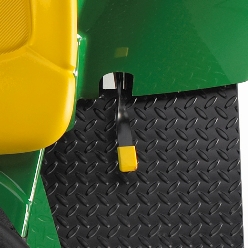 Also located to the left side is the lever for the differential lock. Simply engage by pressing down with the left heel.
NOTE: Differential lock should only be activated when the unit is at a complete stop or damage to the transaxle may occur.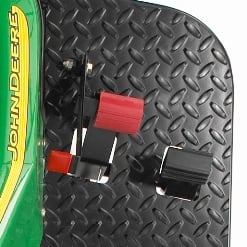 The brake engagement is located on the right side of the foot platform. A foot-activated transaxle disc brake allows for quick and controlled stops. To activate the parking brake, simply step on the brake pedal and engage the retaining lever. To de-activate the parking brake, simply disengage the retaining lever by pushing forward with the right foot or toe.
Also located to the right side of the operator platform is the throttle pedal. To move the 1200A, simply select the direction of travel on the left hand side, disengage the parking brake, and press on the throttle pedal. The further the pedal is pushed, the faster you will go. The maximum speed is 12.6 mph (20.3 km/h).
NOTE: Revving the engine or failing to brake to a complete stop prior to changing from forward to reverse and vice versa will result in gear clash and may damage the machine.