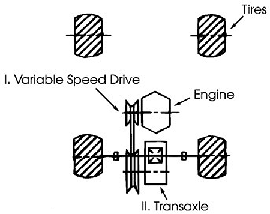 Power is transmitted from the engine, through a continuously variable clutch system, to a transaxle. Power is transmitted from the transaxle directly to the rear axle.
Key elements of the drive system are as follows:
Variable-speed drive
The variable-speed drive consists of two clutches connected by a drive belt:
Drive clutch is attached to and rotated by the engine.
Driven clutch is attached to and drives the transaxle.
Features include:
Infinite selection of speeds (0 km/h to 32 km/h [0 mph to 20 mph])
No shifting necessary as operator increases speed
Adjusts speed to the load to avoid bogging down when going up a hill or through challenging conditions because the wrong gear was selected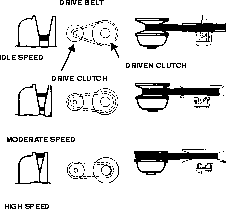 How the variable-speed drive works:
As the engine speed increases, the spring-loaded drive clutch is closed by weights being forced out by centrifugal force.
As the drive clutch closes, the belt rides up to the largest diameter of the drive clutch and forces open the driven clutch.
With the belt running in the smallest diameter of the driven clutch, the speed being transferred to the transaxle is increased.
The driven clutch is designed to sense varying loads (inclines, mud, etc.) and constantly adjusts the drive speed upward or downward, so the engine rpm remains constant at constant throttle position.
Transaxle
The transaxle is fully enclosed and runs in oil for reliability.
Helical gears are used for quiet operation.
Differential design reduces scuffing of the turf during turns because the inside wheels turn slower than the outside wheels (vehicles that have a solid axle shaft must skid the inside wheel when making a turn).
Traction assist (differential lock) is built into the transaxle:
Allows locking the rear drive wheels together
Provides increased traction in tough spots
A neutral start safety interlock is provided for the engine ignition system.
Heavy-duty rear axle housings
Gator TS 4X2
Bolt-on cast-aluminum rear-axle housings provide an extremely strong supporting structure.
Large, sealed bearings are located inside the housing for better protection
Forged-splined shaft for increased torsional strength
Gator TX 4X2
One-piece forged axles are splined for maximum strength.
Large, sealed bearings for better protection and load-carrying capabilities
Forged-splined shaft for increased torsional strength
Nodular cast-iron housing for increased durability
NOTE: The TS 4X2 is not sold in Australia/New Zealand.