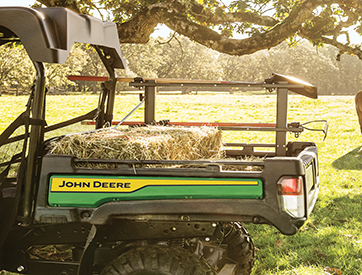 Extra-durable deluxe cargo box ensures hard-working performance and longevity
The deluxe cargo box consists of a 15 percent glass-filled polypropylene composite material that eliminates rust and dents and reduces noise.
Deluxe cargo box tailgate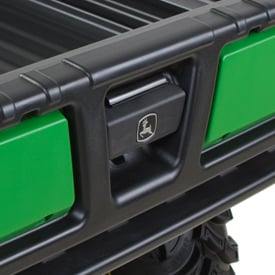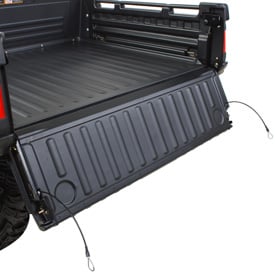 The tailgate can be opened or removed for easier cleanout and to carry longer items. The tailgate has been improved, features truck-like performance, and can be operated with one hand.

The standard-installed lanyards can also be removed to lower the tailgate 150 degrees for convenient loading and unloading tasks.
Deluxe cargo box tilt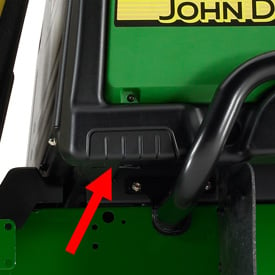 The deluxe cargo box is easier to latch, unlatch, raise, and lower with the integrated handle design and gas assist. A prop rod is provided to hold the box in the upright position for operator convenience, as well as limit box pivot travel.
Integrated tie-down points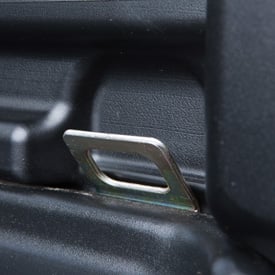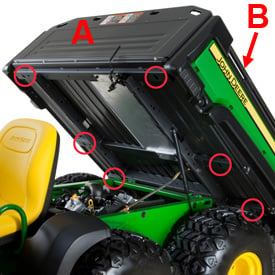 The deluxe cargo box offers integrated tie-down points for increased versatility. Tie-down points are located in the following areas:
Four corners inside the cargo box bed
Four points on the load guard directly behind the operator station (A)
Tie-down bars on either side of the cargo box (B)
Six points on the underside of the cargo box frame (circled)
Converting deluxe cargo box to a flat bed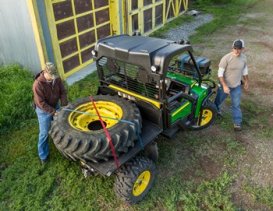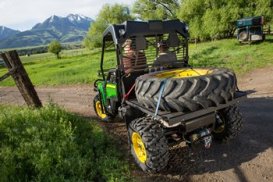 The deluxe cargo box easily converts to a flat bed. The flatbed configuration allows operators to load larger cargo.
Cargo box specifications
| | |
| --- | --- |
| Length | 1143 mm (45 in.) |
| Width | 1320 mm (52 in.) |
| Depth | 304 mm (11 in.) |
| Volume | 0.46 m3 (16.4 cu ft) |
| Weight capacity | 454 kg (1000 lb) |
| Dump angle | 47 degrees |
CAUTION: Carrying extra-long cargo that extends beyond the box can adversely affect stability.