The cargo box consists of a high-density polyethylene copolymer composite material that eliminates rust, dents, and reduces noise. This large, one-piece design has rounded inside corners to ensure material removal when tilted. The composite box is highly ribbed and supported with a welded, steel-ladder structure to ensure hard-driving performance and longevity. The three highly styled exterior pieces are made of TPO for extra durability.
Cargo box tailgate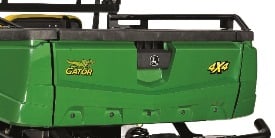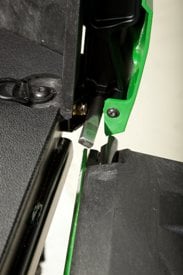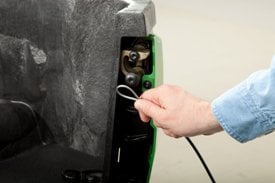 The tailgate can be opened or removed for easier cleanout and to carry longer items. It features truck-like performance and can be operated with one hand.

The tailgate's pivot point is made of hardened steel for durability and designed for tool-free removal. The standard lanyards can also be disconnected without tools to remove the tailgate for convenient loading and unloading tasks.
Cargo box tilt and removal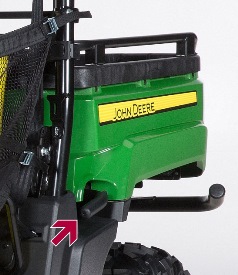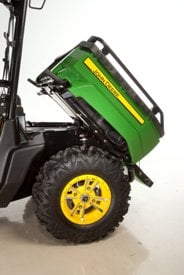 The cargo box ease of use is critical to performing tasks quickly and efficiently. Starting with the truck-style tailgate, the removal of content in this cargo box could not be easier. The manual release also functions as the lift lever, done in a smooth, one-step motion. It can even be tilted from both sides of the vehicle. To reduce the overall effort of lift, the pivot point of the cargo box is closer to the center. The combination of easy-to-use attributes makes this cargo box best-in-class.

For servicing the vehicle's systems, the cargo box is easily removable. With the removal of two bolts, the cargo box can easily be detached from the vehicle frame.
Integrated tie-down points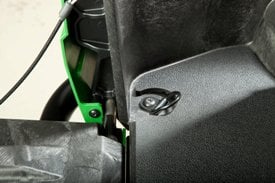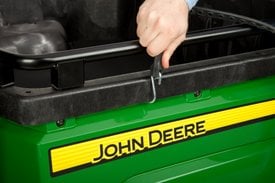 The cargo box offers integrated tie-down points for increased versatility. Tie-down points are located in the following areas:
Flip-up D-shaped rings in all four corners inside the cargo box bed
Multiple points along the edge of the cargo box side walls
Tie-down bars on either side of the cargo box with optional cargo box rail kit. This kit also provides a mounting system using accessories that possess the 25.4-mm (1-in.) quick clamp.
Optional accessories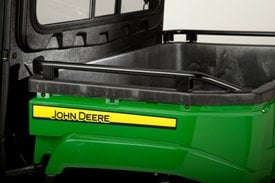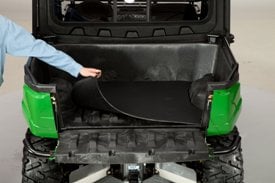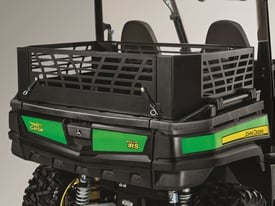 Optional accessories for the cargo box include (see price pages or JDConfigurator for complete list):
Cargo box rail system
Cargo box mat
Cargo box wall extensions
Spare tire rack
Bucket holder
Specifications
Length
82 cm (32.3 in.)
Width
120.9 cm (47.6 in.)
Depth
29.7 cm (11.7 in.)
Volume
0.25 m3 (8.9 cu ft)
Weight capacity
227 kg (500 lb)
Dump angle
Bed height (from ground)

45 degrees

76.3 cm (30 in.)
CAUTION: Carrying extra-long cargo that extends beyond the box can adversely affect stability.