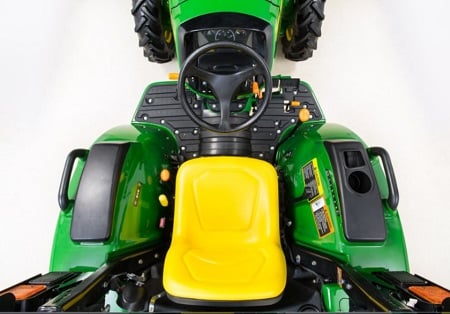 An uncluttered design gives operators of all sizes plenty of room to be comfortable. Color-coded controls are located on either side of the operator.
Contoured, comfortable seat enhances operator comfort.

Seat position adjusts fore and aft
Seat flips forward for protection from the elements

Flat operator platform provides for easy entry to/exit from the tractor.
Folding Roll-Gard© rollover protective structure (ROPS) and retractable seat belt increase operator safety.
Operator presence system:
If the operator leaves the seat when the forward/reverse and range lever are in gear, the engine shuts down.
If the operator leaves the seat when the power take-off (PTO) is engaged, the engine shuts down.
Left-side step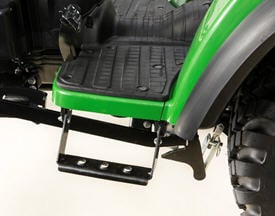 The left-side step allows for easy access on and off the tractor.
Foot platform has a non-skid surface for sure footing.
Seat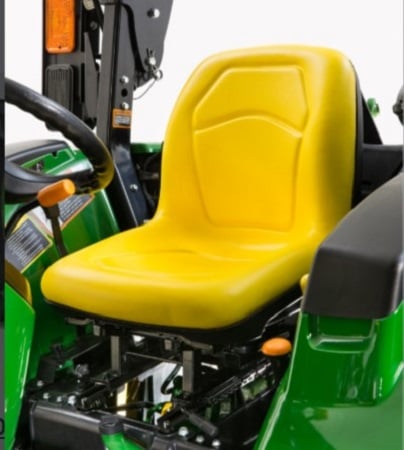 The thick, soft padding on this seat provides a smooth and comfortable ride.
Seat flips forward for protection from the elements.
Adjustable using the fore and aft lever located under the seat, the seat slides on ramped rails to provide comfortable access to all controls.
Instrumentation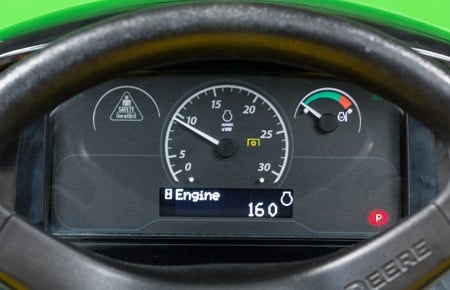 Easy-to-read instrument panel includes the following:
Tachometer
Low oil pressure indicator light
Battery discharge indicator light
PTO engagement indicator light
Signal/hazard lamp indicator lights
Multifunction liquid crystal display (LCD) display (hours, filter cleaning information, PTO speed, etc.)
Filter cleaning status indicator light
Fuel tank and gauge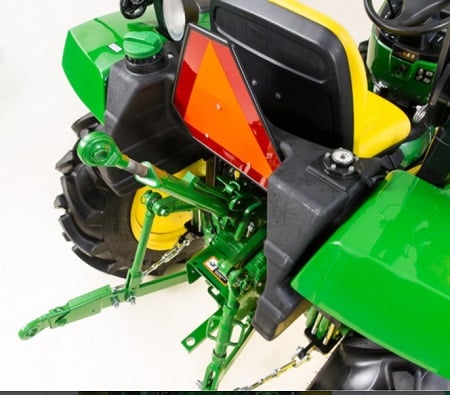 All 3D Series Tractors come standard with a fuel gauge that is easy to read from the operator's station to ensure operators do not run out of fuel. The fuel tank is also located on the rear of the tractor to allow for easy refill.
Safety
Operator presence switch (OPS) in seat:
OPS requires the operator to be in the seat to operate the transmission or PTO.
ROPS is designed to meet or exceed American Society of Agricultural and Biological Engineers (ASABE) safety standards.
Reflective ROPS strips for better tractor visibility.
Seat belts are in base equipment on all John Deere compact utility tractors.
Key switch interlock prevents bypass starting.
Visual PTO warning light on the instrument panel alerts the operator when the PTO is running.
Turn signal and flashing warning lights operate according to ASABE standards.
Slow-moving vehicle (SMV) sign is provided for road transport.
Park brake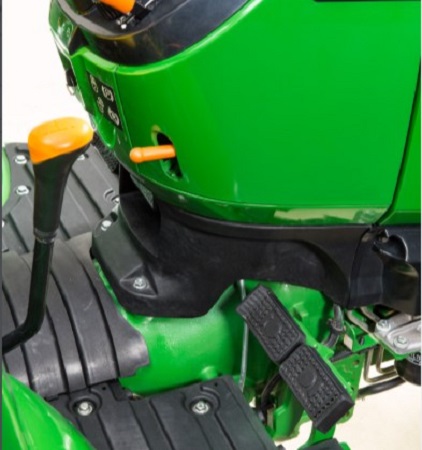 Two-post Roll-Gard ROPS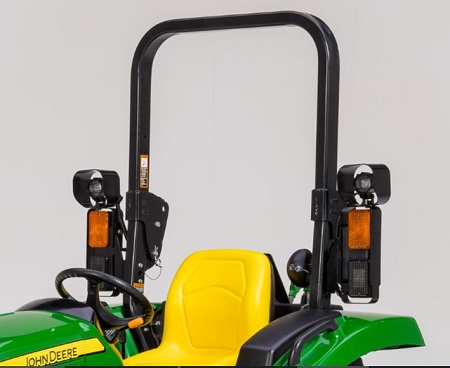 3D Series Tractors are equipped with Roll-Gard ROPS. These folding ROPS meet the ASABE standards for compact utility tractors.
NOTE: The use of seat belts is recommended at all times when operating the 3D Series Tractor with the folding ROPS upright.
An optional canopy is available to help protect the operator from the elements.