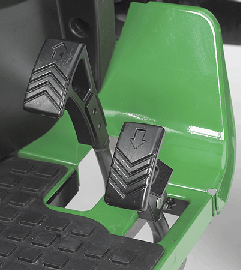 The 2025R and 2032R hydrostatic (HST) Tractors feature a foot-controlled hydrostatic transmission.
Low pedal effort makes the transmission very easy to operate

Fluid under pressure transmits engine power to the drive wheels through a hydraulic pump and motor

The hydrostatic drive unit functions both as a clutch and transmission
Twin Touch foot controls allow selecting both speed and direction of travel with a touch of the toe. Ideally suited for jobs where productivity is a must, such as loader or mower applications.
Infinite ground speeds, even at full throttle, to match the job
No clutching for fast direction changes
Faster, easier, and more precise to operate than competitive tractors with treadle pedal design (toe-heel)
Provides high torque for start up
Reduces powertrain shock loads
Large rubber foot pedals were designed for operator comfort and allow for convenient operation of the tractor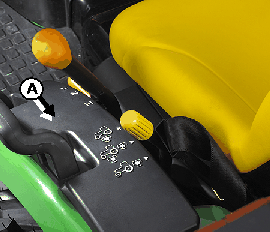 Transmission has two speeds - hi and lo range.
The range lever is located next to the left-hand fender (A), conveniently within reach of the operator.
Kanzaki® HST transmission is used for reliable operation.

Durability features include:
1) Large forged one-piece trunnion shaft with larger support bearings that reduce vibration and noise.
2) Innovative transaxle combines an HST transmission, gear reduction axle, and clutch.
3) Pressure side filtration allows using a finer mesh filter (10 micron) than suction filtration systems used on many competitive tractors.
4) Charge pump used to deliver oil to transmission (some competitive tractors use one pump for transmission and hydraulics).
5) Oil cooler cools transmission oil for longer transmission life.
Kanzaki is a U.S.-registered trademark of Kanzaki Kokyukoki Mfg. Company.