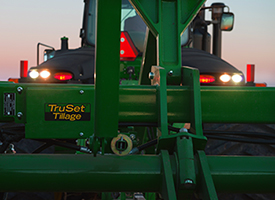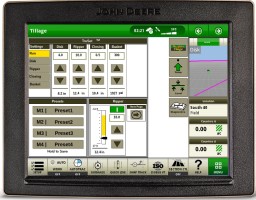 In just six seconds, 2730 Combination Ripper operators can manage their changing field conditions by making on-the-go adjustments for the entire implement from the tractor cab. TruSet enables users to adjust depths for the disks, rippers, and closing disks, and adjust the pressure on the active hydraulic rolling baskets ™ all while covering acres.
As conditions change throughout the field, operators running the 2730 with TruSet can quickly and efficiently respond to varying soils, compacted areas, heavier residue, and moisture. Making customized adjustments that respond to these agronomic factors help customers maximize their yield potential.
Adjusting the 2730 Combination Ripper with TruSet can be done up to 200 times faster than the manual adjustment process using single-point depth control and cylinder stops. With short windows to perform tillage work, that critical time savings could be the difference in getting fields worked or not.
Operators no longer must sacrifice machine performance by deciding to forgo manual adjustments throughout the field. At the touch of a button, TruSet users can quickly respond to changing conditions such as running deeper over end rows or shallower on hilltops and lighter soils. TruSet users can optimize their 2730 depth adjustments to maximize tractor performance for more efficient fuel use and lower overall operating costs.
TruSet also adds precision to tillage operations. The system offers depth accuracy of 2.5 mm (0.1 in.) and more than doubles the number of depth setting increments on the 2730 Combination Ripper. This finite level of control enables 2730 operators to create the ideal soil structure and evenly size and distribute residue for maximum yield potential.
| | | | |
| --- | --- | --- | --- |
| Functional area | 2730 adjustment settings without TruSet | 2730 adjustment settings with TruSet | Improvement |
| Front disks | 32 | 80 | 150 percent |
| Rippers | 47 | 95 | 100 percent |
| Closing disks | 20 | 50 | 150 percent |
TruSet is standard on all 2730 Combination Rippers. Single-point depth control is also standard on every 2730 equipped with TruSet for ultimate flexibility.
Functionality
This advanced tillage technology, available exclusively from John Deere, provides operators with real-time knowledge of the settings for each functional area on the implement. With a working tillage width of up to 7.9 m (26 ft) on the 2730, consistent tillage performance can be easily obtained from front to back across all four functional areas of this machine.
Both the set points entered by the user and the actual running depth or pressure for each area on the implement can be easily referenced for assurance of desired tillage outcomes. Once actual set point is validated and configured to the display in the cab, operators can make independent adjustments to the disks, rippers, or closing disks with accuracy within one tenth of an inch. Four memory set points enable operators to save different combinations of settings for their most common field conditions.
The independent adjustability of each area on the 2730 helps ensure TruSet users are efficiently managing residue and creating the ideal soil structure. By responding to conditions as they change throughout the field, TruSet operators generate better-quality tillage performance with the first pass.
Compatibility
TruSet is compatible with John Deere and competitive tractors. The following chart identifies the components needed to operate TruSet on a 2730 Combination Ripper with a GreenStar© Ready tractor.
John Deere 30 Series
and newer Tractors

John Deere 20 Series
and older tractors

Competitive tractors

TruSet Tillage system

Yes

Yes

Yes

TruSet compatibility kit

No

Yes

Yes
Like the TruSet Tillage System, the compatibility kit will be available as a field-installed option that can be ordered with the 2730 or through aftermarket parts. The compatibility kit includes an implement add-on valve and installation components.

All model years of the 2730 can be retrofitted with TruSet.
Additional information
Ordering information
TruSet simulator