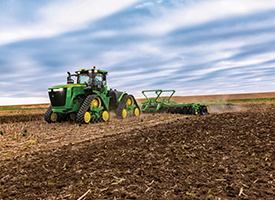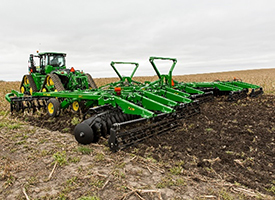 The 2630 Series Disks offer multiple upgrades and new items as options versus the 2620 Series Disks to enhance the machine. Check out the following video sharing more about the new 2630 Series Disks.
Extended-life bearings
John Deere's 2630 Series Disks and Vertical Tillage Implements feature extended-life bearings. These more durable and reliable bearings allow producers to customize bearing maintenance for specific growing conditions and soil type.
TruSet© side-to-side feature
John Deere TruSet system is featured in base equipment for the 2630 Series Disks and Vertical Tillage Implements. TruSet side-to-side is also available and features individual section leveling.
Knife-edge hydraulic rolling basket
The hydraulic rolling basket is now offered with a round bar, flat bar, or knife-edge. The knife-edge is best for heavier, wet soil, and can be used in rocky conditions.
Radial tires
The 2630 Series Disks and Vertical Tillage Implements feature radial tires for the mainframes in base equipment. Radial tires are available as an option on the wing frame and stabilizer wheels. These tires are designed to offer longer wear life and help minimize compaction with a wider plate and lower inflation pressures.
Stabilizer wheels
Producers can choose either mechanical stabilizer wheels or TruSet hydraulic stabilizer wheels as an option. Stabilizer wheels help to maintain a consistent, level depth and are recommended for operation on rolling ground. The mechanical stabilizer wheels can be manually adjusted with a turnbuckle. TruSet with side-to-side leveling capabilities also enables operators to control the TruSet hydraulic stabilizer wheels from the cab while on the go.