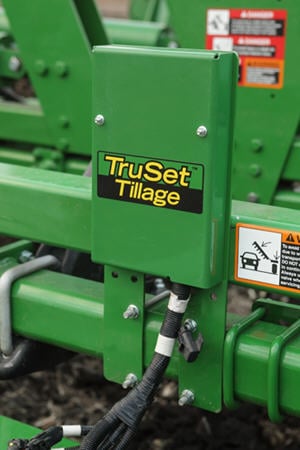 The 2430 Chisel Plow is designed for precise, accurate depth control. Precise depth control is very important for conservation of moisture, fertilizer placement, and soil management. Soil layers of differing soil type vary across farms and even across fields. The ability to adjust for these conditions is extremely important to producers today.
TruSet and single-point depth control both come as standard equipment. Both provide accurate depth control to best utilize available tractor horsepower.
With TruSet, these adjustments can be done on the move, increasing productivity and making the day go easier for operators. TruSet provides accurate and precise depth control using individual wheel sensors and electronic circuitry to perform tasks of leveling and depth measurements unprecedented in the industry until now. Accurate depth is displayed to the nearest 2.5 mm (1/10 in.).
The floating hitch, frame strength of the Tube-Thru-Tube manufacturing, and the wheel package placement allow the 2430 to offer unmatched consistency of depth (front-to-back and side-to-side). Fuel can be saved, soil can be mixed and shattered, and accurate depth can be maintained. This represents true soil management for the producer.
TruSet Side-to-Side
TruSet Side-to-Side gives producers the same level of individual section control that was available with AccuDepth© hydraulics. However, there are differences in how the two systems are hydraulically plumbed.
The AccuDepth hydraulics required a correction valve on every frame section since the hydraulics were plumbed in parallel. The TruSet system is plumbed into a single-point (series) system.
The series hydraulics give producers the option of controlling depth with just the single-point depth control valve or individually controlling each frame section with a correction valve mounted at the base of each depth control cylinder on the wings. The individual section control with TruSet Side-to-Side is an upgrade to the base TruSet Tillage system.
TruSet Side-to-Side is controlled by five sensors compared to one sensor with the base TruSet Tillage system. With the five-sensor control, the implement can make depth control adjustments via sensor feedback on the wings.
TruSet Side-to-Side eliminates the need to rephase the depth control cylinders after several rounds in the field. However, it does require another step when calibrating.
Documentation and prescription
With integrated TruSet Tillage technology, operators can incorporate documentation and prescription functionality into their tillage operations. The tillage documentation feature will give producers the ability to capture and analyze the pass for additional coverage of the crop production cycle. Prescription functionality provides producers the capability to ensure their tillage operations are executed correctly, optimizing their investment in preparing for the next crop.
Operators can document data for the depth of their sweeps along with rolling basket down pressure. By creating an as-applied map based off of global positioning system (GPS) data for the job performed by each functional area on the implement, TruSet enables producers to document their tillage passes then later review and analyze the data for future agronomic decisions.
Additionally, the Prescription Creator by Agrian® company, a connected partner tool through the John Deere Operations Center, enables producers to create prescriptions for each functional area. Data from previous yields, soil surveys, or freehand drawing tools can be used to create prescriptions that will command the implement to the desired depth and pressure settings for optimum agronomic results.
Functionality by control option
| | | | |
| --- | --- | --- | --- |
| | Single-point | TruSet | TruSet Side-to-Side |
| One adjustment to change implement depth | X | X | X |
| Mechanical adjustment option | X | X | X |
| In-cab adjustment option | --- | X | X |
| In-cab individual section leveling | --- | --- | X |
| Tillage documentation and prescription | --- | X | X |
Agrian is a trademark of Agrian, Inc.