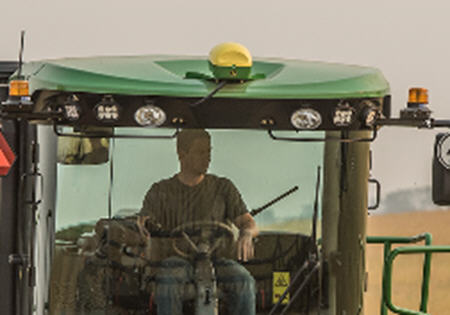 W170 Self-Propelled Windrowers feature an AutoTrac Controller, delivering improved line acquisition and online accuracy to increase performance and lower cost of operation. The fully integrated AutoTrac Controller uses hydraulics to steer the machine, providing more precise control than the AutoTrac Universal solution.
Can be ordered from the factory
The W170 comes from the factory GreenStar© system ready. Select the AutoTrac kit option when ordering the machine to make the W170 AutoTrac ready. The AutoTrac kit includes a hydraulic steering kit, AutoTrac Controller, and universal global positioning system (GPS) receiver mounting kit. An optional GreenStar 3 2630 Display kit and StarFire© 6000 Receiver can also be ordered from the factory.
AutoTrac kit
The AutoTrac kit (dealer installed) includes:
Hydraulic-steering AutoTrac kit
AutoTrac Controller kit
Receiver mounting kit
NOTE: Estimated dealer install time for the AutoTrac kit is approximately 8 hours. Installation includes mounting and connecting the hydraulic and steering linkage components, installing the AutoTrac Controller, and installing the universal receiver mounting kit.
When ordered from the factory, the hydraulic kit will be shipped with the machine. The AutoTrac Controller kit and receiver mounting kit (and Greenstar 3 2630 Display and StarFire 6000 Receiver, if ordered) will ship from a secondary location separate from the machine.
Display (cornerpost mount)
The Greenstar 3 2630 Display includes:
Greenstar 3 2630 Display
Display harness
Mounting bracket
Receiver
StarFire 6000 Receiver ™ SF1 with deluxe shroud
StarFire 6000 Receiver ™ SF2 ready with deluxe shroud
Compatibility and availability
AutoTrac Controller on W170 Self-Propelled Windrowers is compatible with the Greenstar 3 2630 Display and Greenstar 2 1800 Display. If not purchased from the factory at time of machine order, refer to the Precision Ag Technologies Sales Manual and Price Page for ordering information.