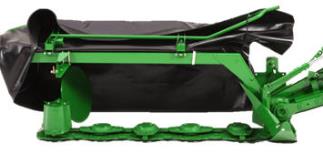 A multi-V-belt drive system transfers power from the gearbox to each rotary disc.

Power is transmitted to the rotary discs through fully enclosed gears running in oil for a quiet, smooth, reliable operation.
All models have a spring-loaded belt tensioner for easier belt adjustment. The belt tension automatically compensates for initial belt stretch, increasing belt life.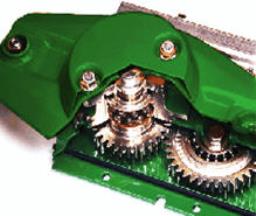 Rotating at 2986 rpm, the high-speed discs cut in the toughest conditions.

The low-profile cutterbar allows a close cut while maintaining a level cutterbar. The cutting height is controlled by adjusting the tilt of the cutterbar.
Each disc has two free-swinging knives:
Easy to remove and replace
Two cutting edges, doubling the use life