Impeller Style Conditioning
Producers need to be reactive to weather conditions when harvest is ready. They must cut faster, with efficient conditioning using swathing or wide spread.
The steel fingers provide the right impact on the plant to remove the waxy coat.
The R870R is equipped with four V-shaped tines in on both sides of the conditioner and 76 straights.
The R950R and R990R are equipped with four V-shaped tines in on both sides of the conditioner and 100 straights.
This accelerates the drying process while requiring little maintenance.
To improve productivity:
Two conditioning positions are available at 755 or 1000 rpm.
Speed change is done by a simple selector on the gear box.
The desired swath size can easily be obtained with adjustable swath deflectors:
From 1.2 to 2.0 m (3.9 ft-6.6 ft) on the F310R and F350R
From 1.45 to 2.40 m (4.7 to 7.9 ft) on the R870R
From 1.85 to 2.40 m (6.1 to 7.9 ft) on the R950R and R990R
Wide spread is available on all machines when very fast drying is required
Proper conditioning in a wide range of crops can be achieved when the conditioner is properly adjusted.

The impeller conditioner works well in legumes, especially alfalfa and most all-grass crops. Impeller conditioners are not recommended for thick-stemmed or cane-type crops, such as sudan or sudex, or crops more than 1.5-m (5-ft) tall.
How an impeller conditioner works: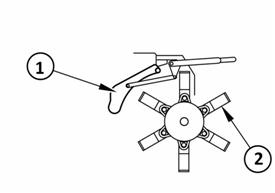 As hay is cut by rotating knives, tines (2) pick up the plants and carry them through the machine. Tines are free swinging to reduce damage to the conditioner if rocks or other solid objects are struck.
As the plant passes through, it rubs against the conditioning hood (1) and other plants. Scuffing action removes the waxy surface from the stem of the plant to allow faster evaporation of moisture.
The pivot point for the conditioning hood is also adjustable to provide a wider range of conditioning intensity.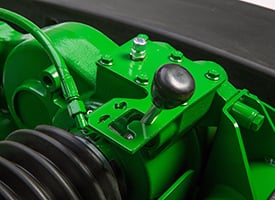 The speed at which the tines rotate will also affect the degree of conditioning. Two impeller speeds can be achieved by simply moving the lever from 755 to 1000 rpm.
Square Flex Conditioning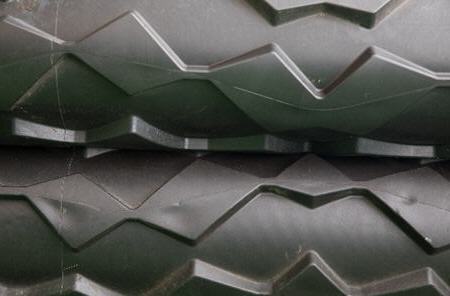 Square Flex conditioning rolls are ideal for alfalfa, but also for heavy forage like sorghum or grasses such as oats or sudan grass. The large diameter (24 cm) provides a good throughput capacity and ensures a smooth material flow without material sticking to the rolls.
Conditioning pressure can be adjusted up to 336 lb/ft by rotating a central adjusting screw placed on the torsion bars. This provides a wide range for conditioning pressure
The double animated rolls are directly driven by maintenance free double transmissions. This allows for synchronization between the two rolls to never need adjustment.
Square Flex conditioning rolls are only available on the F350R, and the R990R.