All settings from the monitor
For any monitor, all R-Series Balers use ISOBUS architecture and can be fully set from the display. There is no need for the operator to leave the cab, even for density or greasing parameters (when equipped with optional automatic greasing system), as everything is managed on the display through drop-down menus. V451R and V461R Balers offer:
Settings
Knife engagement/disengagement
Knife set management (when equipped with MaxiCut© HC 25 Premium)
Drop floor lowering/raising
Bale diameter adjustment
Bale density adjustment (0 to 100 percent capacity)
Softcore activation/deactivation
Softcore pressure adjustment (0 to 100 percent capacity)
Softcore diameter adjustment
Net/twine choice
Automatic/manual tying/wrapping starting
Manual net/twine cylinder control
Net layers adjustment
Net tying delay adjustment
Twine turns on each side (independent) adjustment
Twine spacing adjustment
Twine space to the edges adjustment
B-Wrap® wrap system mode activation
Lighting (side lights/beacon) control when option selected
Automatic greasing system engagement/disengagement (when equipped with optional automatic greasing system)
Automatic greasing duration and frequency
Information
Bale shape indicators
Current bale diameter/set bale diameter
Current bale density/set bale density
Knife set position
Drop-floor position
Near full alarm
Stop indicator
Net/twine choice
Net/twine process status
Bale ejection status (when equipped with optional unloading ramp)
Tailgate status
Softcore status
Bale counters (10 operators x 10 fields = 100 counters)
Time counter
Clear error message
Implement Display 1100 provides a simple but modern solution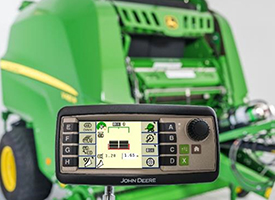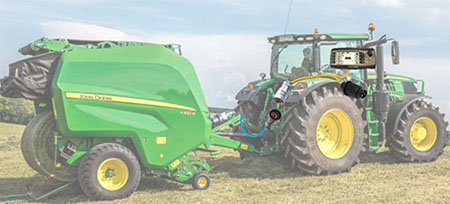 As a universal solution, the Implement Display 1100 monitor offers all key functions for regular users. This ISOBUS monitor features an 11-cm (4.3-in.) diagonal color screen with backlit keys.
The display provides all functions and information listed previously. The Implement Display 1100 is not able to manage Tractor Baler Automation (TBA) mode. The Implement Display 1100 monitor is delivered with a cab harness that must be connected to a 12-V COBO® plug.
NOTE: Monitor support is not delivered and must be ordered independently.
4240 Universal Display enhances operator comfort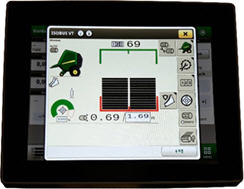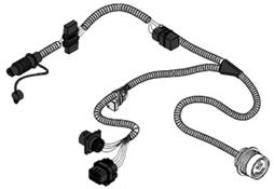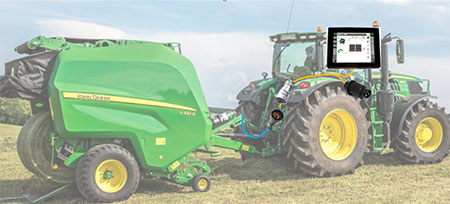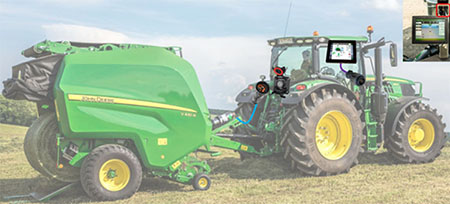 For the most demanding operators, the V451R and V461R can be delivered with the 4240 Universal Display. This ISOBUS display offers a comfortable 21.5-cm (8.4-in) diagonal color screen and can manage the Tractor Baler Automation (TBA) function. The touchscreen offers an intuitive and user-friendly interface that easily allows the operator to adjust and control parameters similar to the Implement Display 1100 and all TBA parameters.
The 4240 offers extended capabilities for guidance, spraying management, farm management, and FarmSight© applications.
To be used with ISOBUS or non-ISOBUS tractors, the 4240 Universal Display option is delivered with the following components:
4240 Universal Display
Baler to rear tractor ISOBUS plug
Baler ISOBUS plug to display harness (requires 12-V COBO plug)
Tractor cab corner to monitor harness
NOTE: Monitor support is not delivered and must be ordered independently.
Use an ISOBUS monitor to optimize cost of acquisition and/or comfort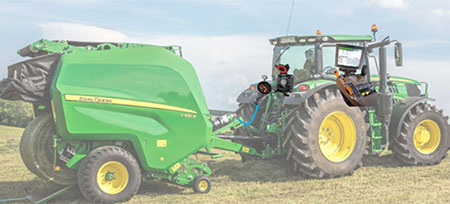 For operators already using a built-in or external ISOBUS certified display, R-Series Balers can be delivered without a monitor. Thanks to the ISOBUS connectivity, just connect the baler to the tractor/monitor and bale.

This cost-efficient solution offers full baler functions (except TBA mode when the baler is plugged into a non-compatible John Deere tractor or to a competitive tractor).
Tractor Baler Automation (TBA) simplifies baling experience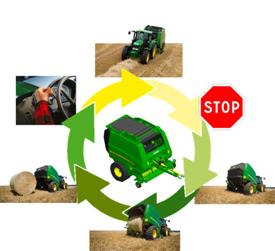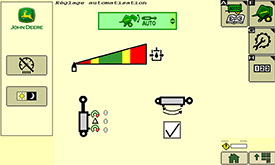 All V451R and V461R Balers are delivered as standard with TBA mode. There is no need for an additional baler activation key. TBA makes baling easier than ever by managing most of the baling process. It offers operators the following advantages:
High baling comfort on a single action to bale instead of four.
Error-proof baling - even after 10 working hours, the system does not forget any action, a true advantage for an inexperienced operator.
Constant bale quality - same diameter, bale after bale.
Constant productivity - no reduced efficiency due to operator fatigue.
When used with a John Deere ISOBUS tractor, electric selective control valve (E-SCV), and Infinitely Variable Transmission (IVT©), the system will be able to:
Stop the tractor when bale size is reached
Open the gate
Close the gate when bale is unloaded
The only action remaining is to forward reverser and manage the steering.

If the John Deere tractor is not equipped with IVT (e.g., with PowrQuad© transmission or DirectDrive) but has E-SCV and ISOBUS, opening and closing can be automated.

A single touch on the SCV, brakes, or reverser will disengage the automation. In the same way, automated open/close can be momentarily stopped when unloading in hilly conditions. TBA does not require additional SCV plugs or load sensing/power beyond features.

The TBA system can be fully set according to operator habits. Acceleration and deceleration duration can be easily adjusted from monitor.

Even if no activation key is required on the baler side, a tractor activation key can be mandatory depending on John Deere tractor specifications.

B-Wrap is a trademark of Tama Plastic Industry. COBO is a trademark of C.O.B.O. S.P.A. Joint Stock Company Italy.