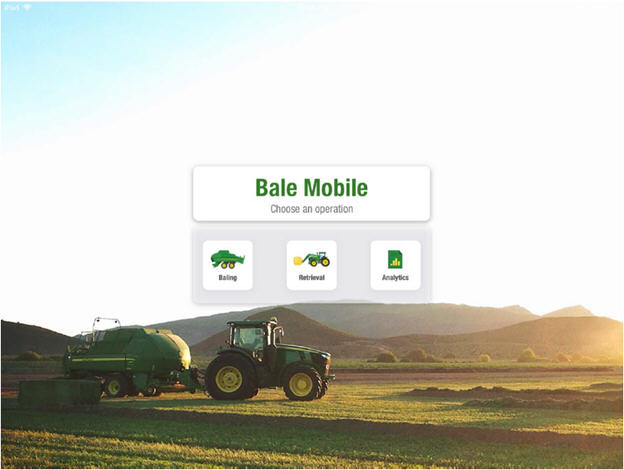 Similar yield data that has been available for crops like corn and soybeans is now available for hay, thanks to the large square balers and the Bale Mobile app. The One Series Large Square Balers measure moisture and weight for each bale. This app takes that real-time information to a whole new level, whether baling, loading, or in the office managing.
Baling
The operator in the tractor can see information as the app documents the baling process. The moisture and weight are tagged to the individual bale. If a bale is too wet, the operator can immediately decide whether to apply preservative or even stop baling. Bale Mobile also has the option to tag bales so they can be easily identified when sorting. After baling in a field, a summary will show the crop, number of bales, and average moisture, even if there is more than one baler running.
Loading and moving bales
When loading trucks or moving bales, Bale Mobile uses this same data to help plan more efficiently. It gives users the option to sort by moisture, weight, and if preservative has or has not been applied. It will help keep the wet or weedy bales out of the stack and load trucks for optimal weight.
Management
From the office, producers can see where the balers are and how well they are working while managing operations and making sound decisions. A summary will show yield information by field to help decide on irrigation, fertilizer, or replanting before next season. This documentation can even be shared with landlords and trusted advisors.
From baling to loading and planning, the John Deere Bale Mobile app allows producers to get more information, improve efficiency, and make better decisions.
Hardware and compatibility requirements:
iPad® tablet
One Series Large Square Baler
Hardware kit

Dealer installation for model year 2018
Factory installation for model year 2019

Tractor with StarFire© receiver
No subscription fee required
To order the BaleMobile through the parts system, use bundle number BE32776.
Note: BaleMobile is only available on the 1-Series large square balers, and requires the baler to be equipped with the mass flow and moisture sensors
iPad is a trademark of Apple Inc.