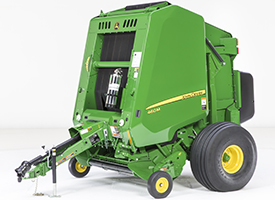 A MegaWide Plus pickup is available on 450M, 550M, and 560M Round Balers. It is base equipment on the 450M Silage, 550M Silage, 460M, 460M Silage, and 560M Silage Balers. The MegaWide Plus pickup is also incorporated into the new MegaWide High Capacity and Cutting (HC2) high-capacity precutter feed system.

0 Series Balers have implemented specification levels for all models in the baler lineup, similar to what was done when the 459E was introduced. Pickup options will remain the same for the model's equivalent specification. The precutter pickups will have the same MegaWide Plus pickups that will be offered in mid specification (M) or the premium specification (R) balers.
MegaWide Plus pickups make baling easier, especially in wide or windblown windrows, and increases productivity; more hay volume means more bales per hour.
Flare-to-flare width of 1.8 m (5.9 ft) on balers with a 1.2 m (4-ft) wide bale chamber
The MegaWide HC2 Precutter feed system on the 460M offers a 2.2 m (7.2-ft) wide flare-to-flare pickup width; 20 percent wider than our previous offerings on the 1.2-m (4-ft) wide balers.
MegaWide Plus pickup makes it easier to produce better-shaped bales and improves crop pickup in wide, windblown, or scattered windrows
Mega teeth, located at the ends of the pickup, pull crop around the flares when baling wide or windblown windrows
MegaTough pickup teeth provide greater strength and durability
Exclusive square design handles high-impact loads without yielding
Sturdy toothbar design
Self-adjusting roller baffle
Spiral rotor-feed system improves feeding in all crop conditions
Chain driven for positive feeding
Cut-out clutch protected
Semi-pneumatic gauge wheels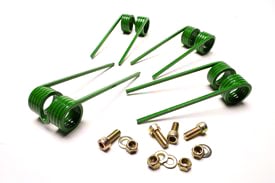 Mega and MegaTough pickup teeth are base equipment:
Mega teeth, at the ends of the pickup, are heavy-duty for long life and improved crop retrieval
MegaTough pickup teeth are designed to withstand the harshest baling conditions and provide long service life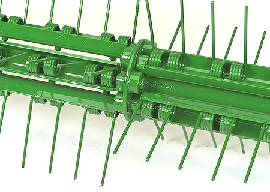 The 1.2-m (4-ft) balers use a full-length, reinforced toothbar design.

The 1.5-m (5-ft) balers use a heavy, C-channel construction. The pickup toothbars are divided into two half-sections that mount to a center spider for increased strength and even crop feeding.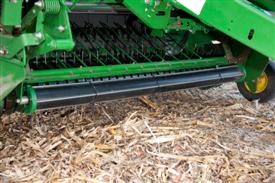 Available only on the MegaWide Plus pickup, the patented roller baffle is self-adjusting and produces smoother crop flow across the pickup. The roller also improves crop pickup in small windrows and prevents roll ahead of crop.

When combined with the MegaWide Plus pickup, this feeding system allows increased ground speed with less chance of plugging for increased productivity in all field conditions.
Self-adjusting
Smooths crop for even flow across pickup
Allows for faster ground speed with less chance of plugging
Increases operator productivity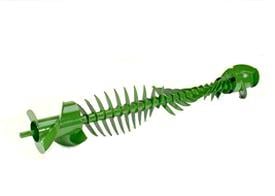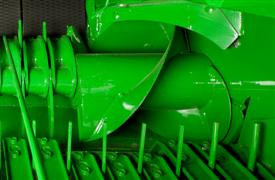 The MegaWide Plus pickup uses a rotor-feeding assembly, which mounts behind the pickup for smooth and even crop flow into the bale chamber.
Augers and rotor teeth are driven on the same shaft, eliminating the need for additional drives.
The rotor is fixed to the baler frame, allowing positive and even feeding into the bale chamber.
Large-diameter converging augers have high crop-flow capacity, and auger scrolls help to force crop into the chamber.
Spiral design enhances feeding in uneven windrows and reduces loading on the rotor.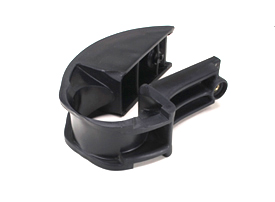 Rotor strippers allow crop to be lifted from the rotor teeth into the chamber without cutting or wrapping the crop.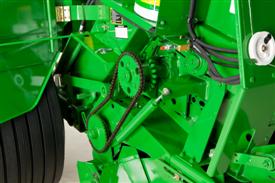 The MegaWide Plus pickups and spiral rotor are chain-driven for positive bale starts with cutout clutch protection. The pickup is being driven off the drive roll and bypasses the starter roll. This will allow for reduced wear and breakage of the starter roll chain.
Semi-pneumatic gauge wheels provide smooth ground gauging over uneven terrain and protection to the pickup.
Stiffer rubber sidewalls
No air pressure to maintain, which mean no flat tires
Adjustable to meet pickup tooth-to-stubble height requirements
The pickup float springs are positioned for excellent flotation.
Adjustable to meet varying field conditions
Float springs only support the pickup reel

Rotor assembly is fixed to the baler frame, eliminating additional weight on the pickup system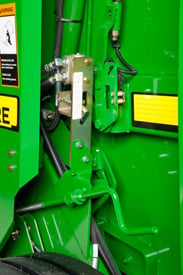 The adjusting crank positions the pickup to the desired operating height to match crop or field conditions.

An optional hydraulic pickup lift cylinder is available as an attachment.
Makes raising for transport or clearing obstructions easy
Crank handle serves as a down stop
Adapts to regular, MegaTooth and MegaWide Plus pickups
Hydraulic pickup lift comes standard on premium machines