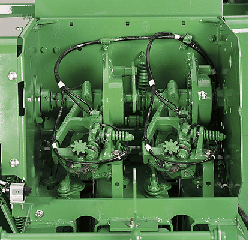 Knotters driven by shaft and gears provide a positive drive for dependable and accurate functioning.
The timing of knotters and needles is easy:
Remove one bolt and match the gears
Timing slot enables easy positioning of the plunger
The tucker finger holds the twine over the billhooks during the tying cycle:
Eliminates twine finger
Reduces the chance of twine damage
Notch controls the twine position over the billhook for improved knotter function
Ball-joint-style pull links ensure accurate adjustment
The twine knife is made of surgical-quality steel and can be easily unbolted for sharpening or replacement.
The adjustable edge on the wiper arm allows an easy, accurate adjustment to the billhook.
The positive meshing of knotter gears is easily maintained with spring pins and washers on the needle lift shaft.
The large-diameter needle-lift shaft increases strength for reliable operation.
The split-design knotter frame enables easy removal, without disassembly of the entire mechanism.
A coil-type tension spring on the twine holder enables easy adjustment and improved performance.
The twine disk timing is easily accomplished without removing the pinion gear.
Making adjustments is easy when changing from multi-twine billhooks to sisal-twine billhooks.
The billhook cam track is a separate hardened part that can be replaced independently from the knotter frame, which reduces repair costs.