The HydraFlex system hydraulically controls the float of the cutterbar by a simple turn of a knob in the cab. This provides exceptional cutterbar flexibility throughout the entire working pressure range. Higher ground speeds can be accomplished with HydraFlex, compared to the conventional float systems.
Feature benefit:
Float arms, with hydraulic cylinders at every other channel, have replaced the mechanical linkage. These cylinders provide the cutterbar with the ability to float over uneven ground conditions with improved operator control.
The platform HydraFlex system with an accumulator maintains a constant ground pressure over changing ground conditions. Manual mode is for locking out the cutterbar in the rigid mode.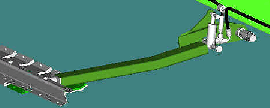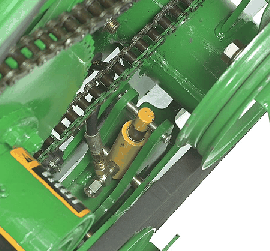 Functionality
In automatic mode, the operator sets a desired cutterbar ground pressure, and the system will maintain this setting. If a different set point is desired, the operator adjusts the encoder on the armrest board, and an updated cutterbar float pressure reading will be shown on the cornerpost display. For increased ground following in uneven terrain, decrease cutterbar pressure to make the cutterbar heavy to the ground. If soil pushing occurs, increase the cutterbar pressure to make the cutterbar lighter to the ground.