Getting your child a ride on toy is something special and a very great choice for the Christmas season. Your child gets to experience a wonderful riding experience from a fun toy and it is even better if you child is trying it for the first time. What is even better, if you have a large yard or garden, your children can enjoy their Christmas season speeding in their john Deere Power Wheels toys. Here are top 20 John Deere toys that are an absolute must this Christmas
12 Volt Ground Force With Trailer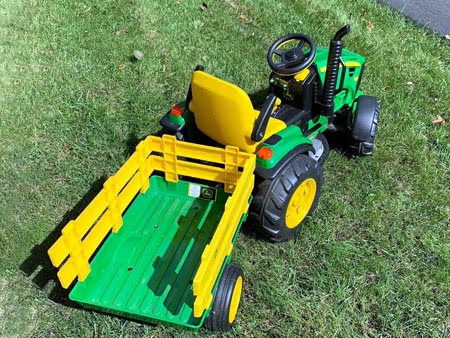 This is the real deal and comes packed with a tone of great features. There are so many features to enjoy with this toy and they include automatic breaks, flip up armrests, adjustable seats and everything else you would find in a whole ground force tractor. The tor also comes equipped with a detachable trailer, which is crucial with karting loads around the firm. As for speed, the toy comes equipped with a safety feature that lets parent limit and manage the speed. What is even more fun you ask? It comes with a radio
Pedal Tractor
Pedal operated toys are perfect during the introduction of drive on toys. This ensures that your child can still have fun as they learn and anticipate to use the larger version toys with electric systems etc. This toy features a wide wheelbase, which lowers the body, thereby securing it to the ground and provides more safety from falling or toppling over. The toy provides your child with all the necessary physical exercised during cycling. Additionally, the toy features John Deere signature yellow and green colours. What's not to love about this toy?
Pedal power Ride-on tractor (Farmtrac 6210R Pedal Tractor)
This is another pedal operated ride on toy from John Deere. The tor comes with an adjustable seat, which makes it perfect for kids aged three to five. The Farmtrac 6210R pedal tractor spots hard moulded plastic, which makes it very resilient and durable even after years of outdoor use. The steering wheel works perfect, enabling your child enhance their coordination and motor-skills while driving.
Price: $257.18
Sit N' Scoot Tractor
This toy is the great starter pack for babies. This inexpensive toy ensures that your kid's love for tractors is encouraged. Due to the size and ease of usability, the toy is perfect for both outdoor and indoor environments. This toy has three settings which include, for use by a toddler in teaching them to scoot alone, the kids can push it around themselves or have an adult push them around. One interesting feature is the electric sounds it plays when the horn button is pressed. Best way to keep a one year old occupied.
Price: $31.99
Trike with cart
The trike with cart is the best toy suited for children aged between 2 years to five and comes with a number of features that will make their experience fun. The toy spots a special moulded plastic, which adds onto its durability and resilience. Be sure that this toy will last for years and you can store it or give it to a friend or family one your kid is done with it. The cart features chainless pedals, which make it easier for the child while pedalling. The toy also comes with a cute electric horn. Be prepared for honking sounds all day.
John Deere Tractor Engine
The John Deere tractor engine is a sleek toy that houses a variety of parts that can be assembled and disassembled with ease. Some of these parts include pretend spark plugs, radiator grill, bolts and nuts among others. This toy is crucial in the enhancement of motor and hand-eye coordination skills, together with increased problem solving when they are stuck. The parts of the toy have been made with high quality materials, to ensure that it lasts through numerous play times. You will be surprised of the working electric horn, headlights and realistic start up sounds. This toy is perfect for kids aged between 36 months and 6 years.
Peg Perego John Deere Gator XUV
This is an excellent drive on toy that comes packed with a number of special features. The toy comes fitted with a standard two-speed setting that allows the kids to drive the toy at a speed of 2.5 or 5 mph. The toy is fitted with a safety lock, which ensures the safety of the kids. The driving experience is unmatched due to the presence of accelerator and brake pedals just like a real car. The wheels are rugged, making them the perfect to weather the outdoor terrain. The toy can fit two kids.
John Deere Gator Toy
The John Deere gator toy is a battery-operated toy that allows for speeds of up to 2.5 mph. The toy is fitted with 6V rechargeable batteries, which enable forward and backward movements. The toy also features detachable water bazookas, which will make play times much fun. Other extra features include sound and light effects.
Peg Perego John Deere Mini Power Loader
This is a great toy that allow for both indoor and outdoor playtimes, thereby ensuring non-stop fun regardless of the weather. The toy features an electric motor, which allows for speeds of up to 2mph. The speed limit ensures that the kids are safe while playing. Your kid will have fun playing around with the accelerator and the automatic braking system. The front dump bucket allows kids to be more creative during playtime.
Price: $131.39
John Deere Get Around Gator
This is a manually operated toy that comes with dual opening doors, which makes getting in and out of the toy an easy task. The kids will love the horn in the gator, which will be key in enhancing their auditory skills. Kids can have total control of the toy by using the available accelerator.
Price: $107.99
John Deere Pick N Pop Combine
The pick n pop combine toy is the perfect toy in enhancing physical exercise for your child. While using the toy, the kid will have to use their legs to scoot them along, making them more active during playtime. Additionally, the toy also comes with a bar at the back, which can be used to push the toy. The toy also comes with 2 songs that children love listening to while playing.
Price: $59.99
Peg Perego John Deere Farm Tractor and Trailer
This toy features a bicycle chain drive, which allow for easy peddling around. The farm tractor and trailer has high quality wheels, which make operation on both smooth and rough surface easier. This allows your child to explore the outdoor environment more often. The toy also features a bucket seat that can be adjusted in maintaining comfort for the child. The tractor's realistic looks have also been crucial in allowing for creativity during playtime.
Peg Perego John Deere Front Loader
The Peg Perego John Deere Front Loader is a great toy that allows for the control of the front loader from the driver's seat. The child will not have to alight during instances of picking up and dumping things. The toy features a chain drive, which makes pedalling easy. Additionally, this front loader has high quality wheels that can fit any terrain.
Price: $236.99
Peg Perego John Deere Ground Loader Ride On
This is a ground loader from John Deere that comes packed with some impressive working features such as the front loader. The toy, which is perfect for kids aged between 36 months to 7 years, is effective in dumping, lifting and scooping things during playtime and kids love this kind of thing. The toy allows for total control by the child, thereby enhancing their coordination and motor skills. The toy comes equipped with an accelerator and automatic brakes for added security during operation. The toy also features high traction wheels, enabling kids to play on any outdoor terrain.
Price: $236.99
Peg Perego John Deere Dual Force Tractor
This dual force tractor comes with 2 speed settings for enhanced control. Beginners can use the lower speed setting of a maximum speed of 2.25 mph. as they progress, they can switch to the upper speed setting that allow speeds of up to 4.5 mph. The toy also features a reverse function, which can be handy sometimes. The kids will also love the FM radio on board to make the play sessions more fun. Other features include a flashing light that helps with the development of visual skills.
Price: $536.99
Rolly X-Trac 8400R Loader with 2 Gears
This pedal powered vehicle is key in providing your child with maximum fun while enabling them to develop their motor skills. The toy comes equipped with a tipping digger bucket and a front loader that can be controlled at the comfort of the adjustable seat. The use of a wheel chain drive makes pedalling the toy much easier. Other features include 2 gears that operate the front loader and a brake for controlling speed.
Price: $588.99
First Farming Hauling Set
This toy features a 3-in-1 hauling set that include a removable fence that can be used on or off the provided trailer in keeping the pigs correlated. The kid can remove the fence to haul gators, combines and tractors. The first farming hauling set includes 3 pieces of fence, 2 pigs, farmer and a cabbed tractor.
Buildable Repair Station And Tractor
This is the perfect repair station that will turn your child into a little mechanic. The packaging includes tools and accessories such as a wrench, hammer, screwdriver, saw and a vice. It also comes with a John Deere Tractor Front loader and features a height of 29.9 inches.
12 Volt Ground Loader With Front Loader
This front loader features 2 speed settings for maximum safety of the child. Additionally, the reverse function will come handy in certain situations. You will love seeing your kid dump, haul or scoop things across the garden. This toy can increase the productivity of a child in helping out certain garden tasks such as hauling seeds or dirt.
Price: $289.99
Dual Force Ride-On tractor
This toy is a massive beauty while tearing through the yard terrain. The tractor features a double rear wheel system, which produces more traction and power. The children will love the FM radio on board and the loud horn to honk anyone in their way to exploration. Parents will find 2 speed settings that can be used in controlling the tractor and enhancing child safety.
Price: $359.99