When it comes to completing landscaping tasks, the best tool for the job can be hard to find. And with so many different types of equipment out there, it's important to know which attachment is right for your garden project.
Luckily, your compact utility tractor provides the perfect balance between power and stability, while also being able to maneuver well in tighter spaces. You won't need a landscape contractor when you can do it yourself – with the help of a John Deere compact tractor!
In this guide, we will discuss five landscaping tasks your compact tractor excels at, and what you can do to make sure you get the most out of your machine when performing these tasks.
1. Mowing Your Lawn
Mowing your lawn can feel like a lot of work, especially with large yards.. but with the help of a sub compact landscape tractor, mowing your lawn is made much easier. Compact tractors can tackle taller grass with ease, making quick work of tackling overgrown sections. Equipped with adjustable cutting heights and attachments like mulch kits and mid mount mowers, you can take control of your mowing experience.
And with their durable build quality, these machines are built to last even during extended cutting sessions. If you're looking to reclaim your yard as part of your next landscaping project, a compact tractor is the perfect machine to get it done quickly and efficiently.
You can also say goodbye to weed control with a small compact tractor. Equipped with several implements like rotary cutters, brush hogs, flail mowers, and other attachments, you can easily clear away any persistent weeds or small trees that have overgrown your land. And with speed control and adjustable cutting heights, you'll get the job done right - every time!
2. Digging Post Holes
For digging those post holes to build decks or fences, a compact tractor is also the perfect tool for the job. Compact tractors are designed for tighter areas, and allow you to dig in narrow areas that larger machines can't get to.
With the right attachments, they can reach up to 4 feet deep, which is perfect for projects like building fence posts or decks with footings. Their powerful engines also provide plenty of torque needed for a heavy-duty job like digging. Whether you need holes 6 inches in diameter or 18 inches wide and 4 feet deep, your compact tractor will do the hard work for you!
3. Moving Logs, Rocks, Soil, and Other Heavy Materials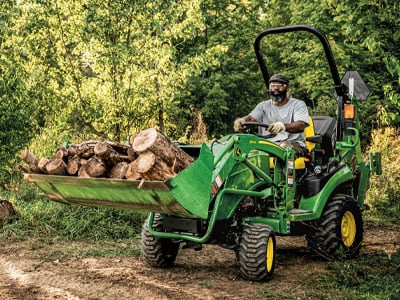 Moving large and heavy items can be a major hassle for those without the right equipment, but with a small compact tractor the process couldn't be much easier. Whether it's logs for a bonfire, rocks for borders, soil for raised beds, or tree stumps you simply need to get rid of - your small tractor can make quick and safe work of any item you need to move.
With durable power, tight turning radius, and maneuverability over tough terrain - these dynamically sized pieces of machinery will help any landscaper make their dream yard come true in no time.
4. Leveling and Grading
When it comes to reinventing your yard, compact tractors are essential for leveling and grading work. With adjustable blades, you can raise and lower the elevation of your turf with ease. Whether you're planning a large patio extension or just need a more even terrain for an outdoor game - compact utility tractors can get the job done quickly and efficiently.
5. Planting Trees
Planting trees can be time-consuming and difficult, but with a compact tractor, the process becomes much simpler. Its powerful engine gives it an edge when it comes to digging deep enough to plant trees in complicated terrains. Compact tractors allow you to avoid tediously manual labor while also making sure that your trees can grow properly and securely. Investing in a compact tractor for your landscaping needs means that planting trees is easy and efficient!
Call Your Local Tractor Dealer Today!
Everglades Farm Equipment is proud to provide a wide variety of compact tractors and attachments perfect for commercial, residential or farming purposes. Our team is highly trained and experienced in the equipment we carry, so you can trust us to source the right tractor for your needs. Give us a call today to learn more about our selection! And make sure to ask us about financing options - we offer competitive rates so you can keep your budget in check!
Frequently Asked Questions
What jobs can a small compact tractor do?
Sub-compact tractors are smaller than traditional farm tractors and are specifically designed for lighter tasks. You can use your new compact tractor for a variety of tasks, such as plowing, harrowing, planting trees, mowing lawns and tilling gardens. They are also capable of hauling materials like compost or gravel, and even installing underground utilities!
What are the benefits of using a compact tractor?
The primary benefit of using a compact tractor is that it allows you to do a variety of tasks quickly and easily. Compact tractors are also more efficient than regular farm tractors, making them ideal for large scale projects. They require less fuel and labor to operate, which can significantly decrease operating costs. Additionally, compact tractors are easier to maneuver than larger models, making them the perfect choice for smaller properties or yards.
What is the best tractor for landscaping?
The best tractor for landscaping is a compact tractor. Compact tractors have smaller engines, making them ideal for small to medium-sized landscape jobs. They are also easy to maneuver and require little maintenance, allowing you to finish your projects quickly and efficiently.
Additionally, these tractors usually come with attachments that allow you to do a variety of tasks, such as mowing, tilling, and hauling materials. Compact landscape tractors are also less expensive than their larger counterparts, helping you to save money while still getting the job done!
What is the difference between a skid steer loader and a compact tractor?
The primary difference between a skid steer loader and a compact tractor is their functionality and maneuverability. Skid steers tend to do a good job, but compact tractors are far more versatile for landscaping and other jobs. With a skid steer loader, both the skid steer and the attachment must be shared among a variety of tasks, making them less cost-effective for dedicated landscaping projects.
But small tractors provide greater versatility in terms of attachments, such as backhoes, forks, and blades. They also have superior maneuverability due to their smaller size and four-wheel drive capability, and can be outfitted with front loader attachments and other equipment that make them especially useful for preparing land for landscaping projects.
What type of tires should I use on my compact utility tractor?
The type of tires you should use on a compact utility tractor will depend on the conditions and terrain where it will be used. Generally speaking, turf or agricultural tires are best for landscaping applications and they provide the best traction in soft soil.
All-terrain tires are typically better suited for construction projects, as they allow for better traction on rough and uneven ground. Industrial tires are great for tasks that involve working on hard surfaces, such as pavements and concrete. If you're unsure about which type of tire is best for your application, it is always best to consult with your local dealer to help you make the right choice.
What types of attachments can I use with my compact utility tractor?
Compact utility tractors can be used with several types of attachments, such as mowers, cultivators, snow blowers, and other attachments. Depending on the model you own, there may also be additional attachments available. It is important to read your owner's manual in order to determine which specific attachments are compatible with your tractor. Additionally, it's a good idea to consult with your local dealer to make sure you have the right attachment for your application.
How do I properly maintain my compact utility tractor?
Proper maintenance is essential when it comes to keeping your compact utility tractor running smoothly for years to come. Regularly check the air pressure in all tires; replace any worn-out parts; lubricate moving parts regularly; and change the engine oil and filter at least once a year. It is also important to clean the tractor often, particularly after each use.
This helps to keep dust, dirt, and debris from clogging the filters or entering into any of the internal parts that could cause damage. Additionally, it's important to follow the guidelines in your owners manual for proper storage and use of attachments to ensure both safety and optimal performance over time.
By following these tips for regular maintenance, you can protect your compact utility tractor from wear and tear, as well as reduce costly repairs down the road! For more information on proper maintenance procedures, be sure to consult with your local dealer who will be able to provide additional insight tailored specifically for your situation.