A tractor is only as helpful as the implements you use with it. With one or more power take offs, towing hitches, and multiple types of sturdy mounting bracket, tractors are often built to work with a wide variety of implements. If you've already invested in a tractor, adding a few implements will really open up the potential of your new tractor. Here at Everglades Equipment , we understand that farm equipment is serious business, so we work with our customers to make sure they get the right tools for their jobs.
1. Box Blade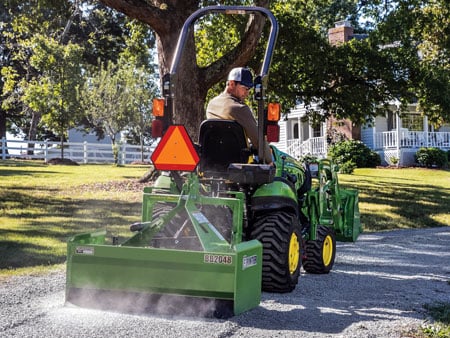 A box blade with scarifiers is one of the fundamental tools that tractor owners always seem to find a use for. This versatile device has a simple design that is pulled behind a tractor. Blades dig into the ground and then spread out the material into a flat, level layer. This is tool is great for making roads or paths as well as leveling out gravel for a parking lot. The box blade helps to take the guess work out of smoothing and leveling ground.
Shop all our Box Blade Inventory
2. Mower/Cutter
A mower or cutter is made to cut grass and weeds down to a manageable height. Depending on the height and style of your tractor, this device can be used to mow your lawn, trim a baseball field, or even knock down the cheat grass before fire season. These devices are useful for those who have acres to trim and a tight schedule in which to do it.
Browse all our Mower Cutter Inventory
3. Front End Loader
A loader is an extremely helpful device for any tractor owner. It's armed design allows you to connect it to a pallet loader, bucket, or several other tools to get the most usability. Whether you need to move a big pile of manure, or pull pallets off your trailer, the loader implement comes in handy time after time.
Shop all Front End Loaders
4. Rear Blade
A rear blade, like a box blade, helps to flatten and level materials. Attached to the rear of the tractor, the rear blade trails the tractor scraping off the prominent layer of material. This can be helpful for grading roads, level paths, or even scraping away snow.
Check out all our Rear Blade Inventory
5. Post Hole Digger
When you've got major amounts of fence to put in, you'll want the right tool for the job. That tool is a post hole digger, a sort of large auger that quickly bores deep, perfectly round holes when and where you need them. You can often fit even larger auger bits for planting things like bushes and trees, making this a helpful tool for landscapers.
Shop all our Post Hole Diggers
6. Snow Blower
Here in Florida we don't get much snow, but for those who do, a snowblower is an indispensable tool. A snowblower can clear huge amounts of roadway or property of snow in almost no time at all. It's a whole lot better than trying to clear your drive with a snow shovel!
View our Snow Blower Inventory
7. Land Plane
Following in the path of the rear blade and box blade, the land plane is helpful for leveling out road or other surface. It works well with gravel, dirt, and other materials. It can be used to level a job site, create or maintain a road, and many other tasks. It's more detailed design gives it more finesse and control in many applications.
Check out our Land Plane Inventory
8. Rotary Tiller
When you need to till in your cover crop or prepare a hard old field for new crops, a rotary tiller will be your best friend. Rotating tines cut deep into the soil and turn it up leaving a fresh layer of loose soil that's ready to accept seeds or starts.
View All Rotary Tillers
9. Pallet Forks
Pallet forks are great for those who move large amounts of pallets. While their large size and lack of zero-turn mobility generally makes tractors poorly suited for warehouse work, a pallet fork allows you move crates to your fields during harvest or to receive new equipment from a delivery truck with minimal effort.
Shop Pallet Forks
10. Spreader
Whether you're spreading salt on the roads or spreading seeds in your field, a spreader is the perfect device for the job. A spreader uses a large hopper that is filled with the material to be spread and then uses a spinning wheel to fling the material in an even layer behind the tractor. It's incredible useful for many applications.
Browse our Spreader Inventory