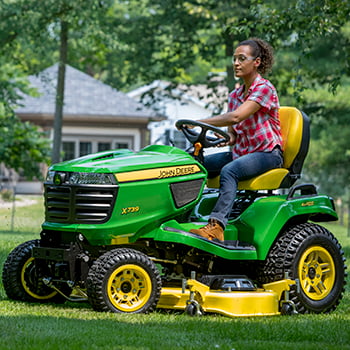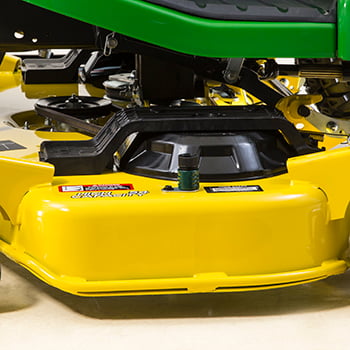 A deep-deck design of 5.5 in. (14 cm) delivers excellent airflow so material can be processed quickly and efficiently. The deck is stamped from 9-gauge, 0.15-in. (3.8-mm) steel and has welded-on reinforcement at the bottom edge for extra strength and durability.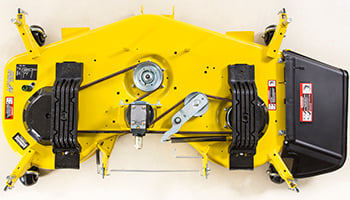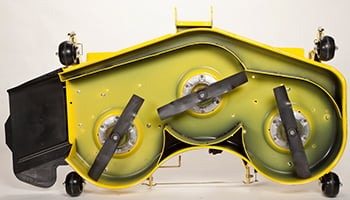 High-capacity mower decks are formed in a hydraulic press to minimize the number of welds and provide a smooth underside for reduced material buildup:
Wider and higher discharge opening provides an even clipping dispersal for an excellent finished appearance in all conditions.
Durable plastic deflector spreads grass clippings evenly across the lawn, is hinged, and can be raised to minimize the storage space required.
1-in. (2.5-cm) cold-forged spindles are heat-treated for strength and supported by ball bearings.
Front edge is raised above the blade plane to allow even cutting of tall grass.
Blade overlap is greater than many conventional decks for a clean cut.
Mower can side-discharge, mulch (optional), or use a Power Flow© collection system (optional).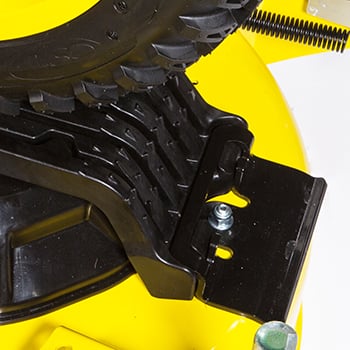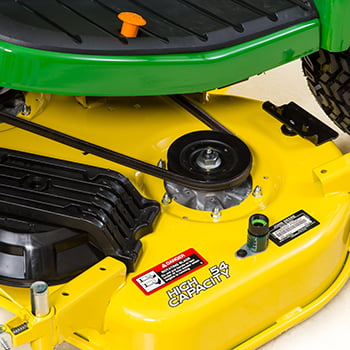 Ramps are provided to permit driving over the mower deck for installing and removing it from the tractor:
Constructed of 30 percent glass-filled polypropylene for strength to carry the weight of the tractor
Polypropylene material will not rust or corrode for lasting good appearance
Shark tooth shaped grips designed into the ramp inclines for added wheel traction when driving onto the mower deck
Tire grab at the rear of the ramp gives extra wheel traction
Ramps removed and replaced without tools to permit convenient servicing of the mower spindles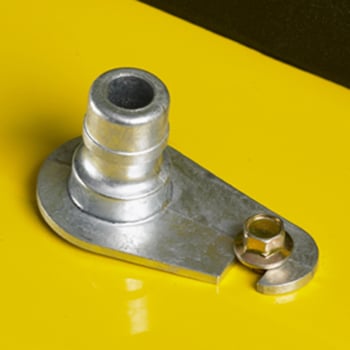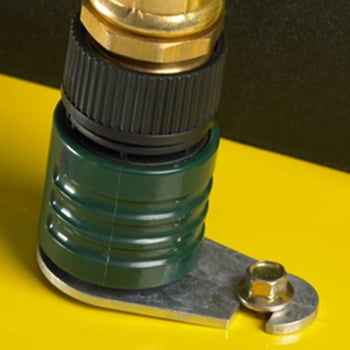 A wash port is provided to make cleaning the underside of the mower deck easy:
Hose connector is included with the mower deck.
Optional high-performance mulching attachment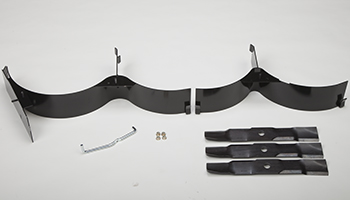 The high-performance mulching attachment provides excellent mulching performance:
This is a high-performance mulching attachment that includes formed steel baffles to control the material and special mulching blades for superior performance.

The special mulching blades that are included can also be used for side discharging and collecting, though overall performance may be slightly less than with the standard blades.

Order: BM23977, 54 HC mulching attachment or BM23978 60 HC mulching attachment
Optional MulchControl© attachment
Optional AutoConnect© drive (BM25677)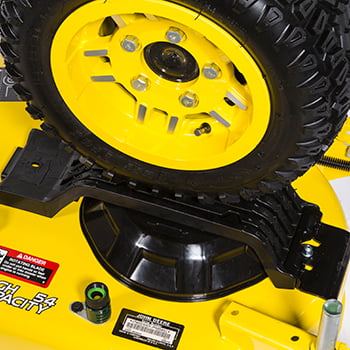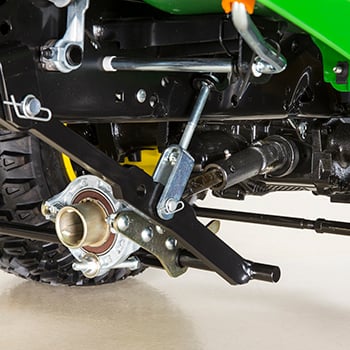 The AutoConnect driveshaft is an optional kit that will automatically connect or remove the drive from the mower deck to the tractor's mid power take-off (PTO) shaft.
The AutoConnect drive does not need to be removed from the tractor when using front-powered equipment.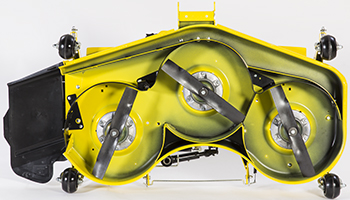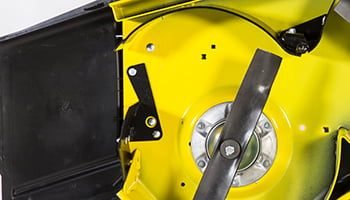 The MulchControl attachment makes mulching more practical for many mowing situations because it not only does an excellent job of mulching but it also allows the mower to be easily converted for times when it is more desirable to side discharge or collect the lawn material. Advantages of mulching grass clippings include:
A beautiful looking lawn
Grass clippings not blown onto the operator, driveways, or flower beds
Less fertilizer use
Elimination of the effort needed to dispose of clippings
MulchControl is an innovative, simple design that is easy to use and maintain:
The MulchControl attachment includes baffles to control the flow of material under the deck.
The left mower blade area is completely enclosed and optimized for mulching, thus will mulch even when the mower is in the side-discharge mode.
Baffles around the center and right blades are optimized for mulching when the discharge baffle is closed.
MulchControl operation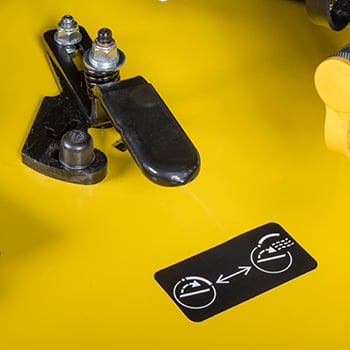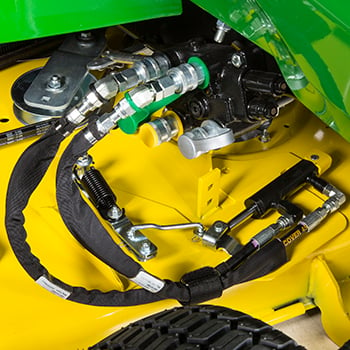 The optional MulchControl attachment comes with a handle on top of the mower deck that is used to open and close the discharge baffle:
The operator is required to get off of the machine in order to engage or disengage mulch mode.
An optional hydraulic MulchControl actuator attachment is available to replace the standard control lever and allow the operator to control MulchControl from the seat using the tractor's hydraulic control lever.

NOTE: To have hydraulic control of the MulchControl baffle, both MulchControl and hydraulic MulchControl actuator attachments must be ordered. The hydraulic MulchControl actuator is an extra-cost option for the MulchControl attachment.

Changing from mulching to side discharge or vice versa with the hand lever or hydraulic MulchControl actuator option takes only a few seconds.
MulchControl is well-suited to the following mowing situations:
Usually mulch, but side discharge when grass gets too long
Usually side discharge, but would like to be able to close the chute to control clippings
Always mulch a main lawn, but often side discharge secondary lawns
Bag clippings, but want to go farther before emptying bags
MulchControl puts the operator in control of the clippings. Now the operator can have all the benefits of mulching with the ability to easily change to side-discharge or bagging when needed.

MulchControl limitations

While in the side-discharge mode, MulchControl will still mulch about one-third of the material. Therefore, the side-discharge mode is essentially a partial-mulch mode. This can be an advantage when side discharging or bagging, as it helps to reduce the amount of material being discharged. Other times this could work as a disadvantage:
When cutting strong southern grasses, such as Zoysia and Bermuda
When cutting in wet, high-growth conditions, such as those found in the Pacific Northwest United States
When optimum bagging and lawn clean-up is desired
MulchControl compatibility

MulchControl is a field-installed attachment. Mulching blades are included:
MulchControl is for 2015 and newer X700 Signature Series Tractor and:

9074M 54-in. (137-cm) HC Mower Deck (serial number 030,001-070,000)
9078M 54-in. (137-cm) HC Mower Deck (serial number 070,001-)
9075M 60-in. (152-cm) HC Mower Deck (serial number 030,001-070,000)
9079M 60-in. (152-cm) HC Mower Deck (serial number 070,001-)

Optional hydraulic MulchControl actuator (BUC10536) is available for model year 2019 and newer mower decks (9078M and 9079M) only. In addition, mower must be equipped with the basic MulchControl attachment.


NOTE: The hydraulic MulchControl actuator is not available for the 48-in. (122-cm) Accel Deep© Mower Deck.

Order:
BM26300 MulchControl attachment (54 HC)
BM25258 MulchControl attachment (60 HC)
BUC10536 Hydraulic MulchControl actuator
Mower deck attachability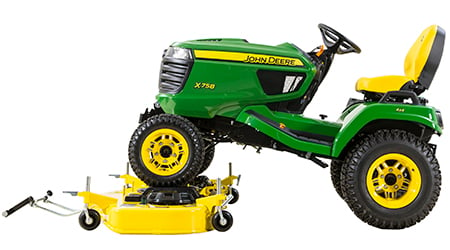 High-capacity mower decks have ramps positioned on top of the deck for easy installation:
On a four-wheel drive (4WD) tractor, the operator can simply drive onto and over the deck.
On a two-wheel drive (2WD) tractor, the operator must back onto and over the deck.
To remove the mower deck:
Disconnect the drive shaft.
Unlock the draft arm locks.
Back or drive the tractor onto and off the mower deck.

On a 4WD tractor, the operator can simply back onto and off the deck.
On a 2WD tractor, the operator can simply drive forward onto and off the deck.
Drive-over mower quick reference (major steps)
John Deere has designed a system that makes it easy to remove and reinstall the mower deck. A few steps need to be followed carefully to ensure success.

The list below includes the major steps. Refer to the operator's manual for a more detailed procedure. The tractor most likely has the mower already installed, so these steps begin with the removal procedure.
DRIVEJD - Always Dependable Product
Mower removal steps
Drive tractor to level area.
Ready mower deck.
Adjust wheels and lower mower deck
Draft arms removed (front) and released (rear)
Power take-off (PTO): disconnect if manual PTO-connect system, then back up to clear rear draft arms (If equipped with AutoConnect©, backing up also disconnects the PTO)
Increase engine speed, engage traction assist, and drive over.
Mower installation steps
Verify tractor and mower are ready.
Alignment of tractor and mower deck
Draft arms up
PTO in correct position (If manual PTO connect, place shaft in mower hanger)
Engage traction assist, increase engine speed, and drive or back over.
Join mower to tractor.
Alignment and attachment verified and PTO connected
Draft arms hookup, front
Position mower wheels
Done! Set mower deck height and mow.