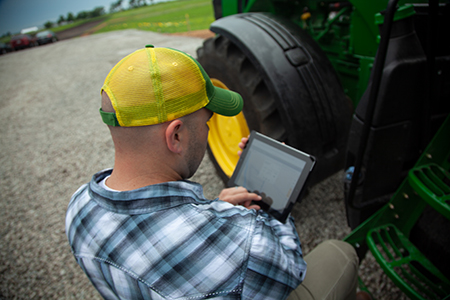 Operations Center is built on a four-step plan: setup organization, plan work, monitor farm, and analyze performance.
Setup helps you help your operators by reducing the chance of your team making errors and entering wrong data. This foundational step is important because it makes adoption easier and allows the ability to personalize and simplify the rest of the user experience.
Plan helps you more easily plan field work and direct your operator's effectiveness. The plan step provides an increase in operator efficiency and ability to improve documentation in addition to maximizing tight operating windows.
Monitor keeps your finger on the pulse of your operation, even when you're away. The monitor tools provide insights into your equipment, people, and field. You can also receive important notifications to keep tabs on your farm, allowing you to fix issues early before they get bigger.
Analyze helps turn this year's results into insights for next year. It enables you to plan for improving yields, cost efficiency, and profitability by learning from the data. The analyze tools provide data on the performance of equipment, fields, and products, allowing you to unlock hidden economic potential.