Paired row vs. side banded
The P500 has two cast seed boots available. Depending on a grower's seed and fertilizer placement preference in different soils or different crops, the P500 can meet the user's needs. The cast opener was designed with simplicity in mind. One tube is all that is necessary. Switching from single to paired row has never been easier; simply remove the two bolts holding the cast opener in place, remove the opener, and replace with the new opener.
Paired row
With shanks on 30.5-cm (12-in.) spacing, paired rows can be planted with 22.9-cm (9-in.) spacing. Seed is banded in two rows above and to the sides of the furrow. Total tillage in this zone is 7.6-cm (3-in.) wide with about 25 percent seedbed utilization (SBU).
Seed is laid on a 2-cm (0.75-in.) shelf while fertilizer is placed in a 2.5-cm (1-in.) band between and below the two seed rows.
With paired row placement, the crop is able to access the fertilizer when it needs it. The separation is enough to safely keep the seed from burning. The P500 provides a well-prepared seedbed for quick emergence and quicker canopy, which will help eliminate weeds. If the operator is looking to swath wider rows, support the heavy green crop.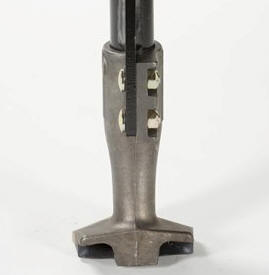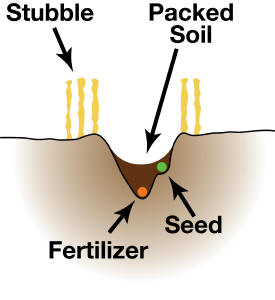 Side banded
If the seeding operation calls for side banding, the P500 is the needed tool. The side-banding seed tube places the seed on a firm bed of soil above and to the side of fertilizer as required. There are 30.5-cm (12-in.) rows across the machine with positive separation between seed and fertilizer up to 11.4 cm (4.5 in.). As the seed germinates and begins to emerge, its roots will be 7.6-cm to 10.2-cm (3-in. to 4-in.) deep and into the nutrient zone.
John Deere recognizes not all seeding conditions are identical and, with the P500, offers solutions to meet seed and fertilizer placement needs.