CommandARM
The CommandARM provides the operator with unmatched control of the windrower and platform. Controls are designed and positioned to enhance operator ergonomics and are easy to locate and use. Operators will appreciate the common look and feel of these control consoles in the windrowers, which are similar to the design used in John Deere tractors and combines.
Adjustment of the CommandARM meets the needs of every operator; it adjusts at an angle, fore and aft, and up and down for precise operator comfort.
The CommandARM provides access to the most frequently-used windrower controls:
Field/road speed range
Throttle: low idle, variable idle, high idle
Platform engage/disengage
Float adjust
Platform speed adjustments
Windrow merger speed, raise, lower (if equipped)
Road hazard engage/disengage
GreenStar© 3 CommandCenter Display navigation
Display menu shortcut buttons
Climate control switches
Work light switches
Beacon light switches
Hazard light switch
Remote audio and radio tuning switches
Multifunction control lever
The controls vital to the operation of the W200 Series Windrowers are conveniently located on the multifunction control lever.

The ergonomic multifunction control lever gives the operator fingertip control of the following functions:
| | | |
| --- | --- | --- |
| | Rotary traction unit | Draper traction unit |
| A | Platform float suspension adjustment, windrow merger position control | Reel raise/lower for/aft adjustment |
| B | Platform presets | |
| | Preset 1: Full platform raise | Preset 1: Platform height, reel, tilt raise position |
| | Preset 2: Platform lower, AutoTrac© automatic guidance engage | Preset 2: Platform advanced header control (AHC) resume, AutoTrac engage |
| | Preset 3: Toggle between two platform speed setpoints | Preset 3: Platform AHC resume |
| C | AutoTrac resume (double tap to center track guidance line) | AutoTrac resume (double tap to center track guidance line) |
| D | Increase/decrease platform speed setpoint | Increase/decrease reel speed setpoint |
| E | Windrow merger enable/disable | Reel reverse |
| F | Platform raise/lower and tilt adjustment | Platform raise/lower and tilt adjustment |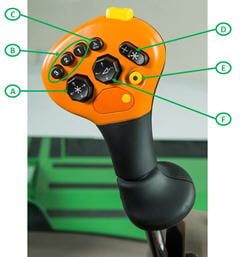 The multifunction control lever is also associated with the following functions:
Forward/reverse ground speed
Automatically disengages the parking brake when moved from the park position with the engine running; the parking brake is automatically engaged when placed in park
With platform enabled and on rotary traction units only, automatically raises platform when moved from forward to reverse position to prevent wrapping cut crop into conditioning rolls
GreenStar 3 CommandCenter Display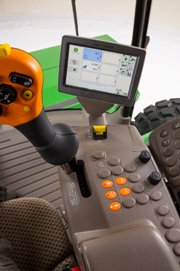 The GreenStar 3 CommandCenter Display is the central information system on all W200 Series Self-Propelled Windrowers. The GreenStar 3 CommandCenter Display provides:
Header and diagnostic information vital to operation
Adjustment of machine settings
Infotainment access (if equipped)
Interface to AMS applications and components
Access to more machine diagnostic information enhancing serviceability
Textual information on diagnostic trouble codes
Interface to engine after-treatment system
Based on the choice of cab package, the W200 Series come with either an 18-cm (7-in.) display available in a touchscreen or non-touchscreen configuration or a 26-cm (10-in.) touchscreen display.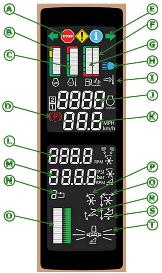 Traction unit information provided by the upper region (as seen in above image):
(A) Stop, alarm, and information indicators
(B) Engine power meter
(C) Engine coolant temp
(D) Park indicator
(E) Turn signals
(F) Diesel exhaust fluid gauge
(G) Fuel gauge
(H) High beam indicator
(I) Exhaust filter cleaning indicator
(J) Engine rpm
(K) Ground speed
Platform specific information provided in the lower region:
| | | |
| --- | --- | --- |
| | Rotary platform | Draper platform |
| L | Platform speed | Platform speed |
| M | Float pressure | Reel speed |
| N | Selected preset | Selected preset |
| O | --- | Platform height/preset height indicator |
| P | --- | Auto reel speed active |
| Q | --- | Auto reel position active |
| R | --- | Auto height sensing active |
| S | --- | Auto tilt resume active |
| T | --- | Platform level indicator |
Primary display unit (PDU)
The PDU features state-of-the-art electronic instrumentation and blends well with the narrow, right-hand cab post, providing excellent visibility to the header. The PDU is divided into an upper and lower region. The upper region provides traction unit information and the lower region provides platform specific information.